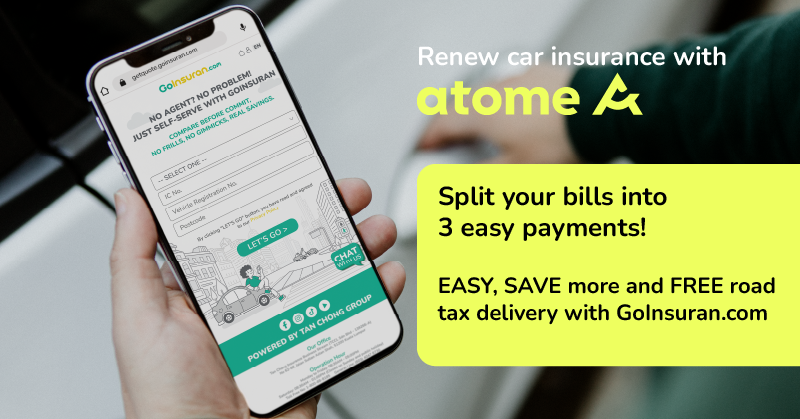 Car insurance renewal is something you can't delay nor avoid. After all, you can't renew your road tax without renewing your car insurance. It's a must if you want to continue driving (without breaking the law!).  
But wait, what if you've burst your budget for the month, or need that money for something else? Ahh, we've something that might just help you out there. It's the GoInsuran Buy Now, Pay Later (BNPL) offer.  
GoInsuran x Atome: A partnership that benefits you! 
Some of you might wonder, who's Atome? Well, Atome is a Singapore-based platform that's one of the largest Buy Now, Pay Later (BNPL) players in Asia. They support well-known brands like Zalora and Agoda, and now GoInsuran! This partnership certainly makes car insurance renewal more accessible to all car owners in Malaysia.  
How to renew car insurance on GoInsuran with Atome?  
It's super-duper easy. When you renew your car insurance on GoInsuran, choose to pay via Atome BNPL platform. 
Step 1: Ready to renew? Checkout with Atome. 
Select Atome as your payment method during checkout. 
Step 2: Get EXCLUSIVE discount vouchers  
5% OFF (capped at RM40, minimum spend of RM600)  
OR  RM30 OFF (minimum spend of RM40) 
Step 3: Review your payment plan 
The total bill of your car insurance renewal will be split into 3 payments. The first payment will be deducted immediately once you successfully transact with Atome.  
The zero interest monthly instalment payments will be automatically deducted (30 days apart).  
Why pay with Atome on GoInsuran? 
0% interest instalments. Enjoy 0% interest on your car insurance renewal. There're no hidden fees too.  
Kindly refer to Atome's FAQs for details on penalties for missed payments, and more.  
Split the cost of car insurance renewal into smaller payments
BNPL is awesome for those looking to break up spending into smaller payments. That way, you can avoid straining your monthly budget or tapping into your emergency fund. It also provides you with some financial buffer in the event of other financial emergencies.  
New to Atome? 
Apply for an Atome account before checkout with GoInsuran. It's fast and simple, with approval done within minutes. 
Renew your car insurance with GoInsuran now 
Get quotes from up to 14 insurers

 

FREE road tax delivery

 

Easily compare prices at a glance

 

Purchase insurance in as quick as 3 minutes

 
Related articles: