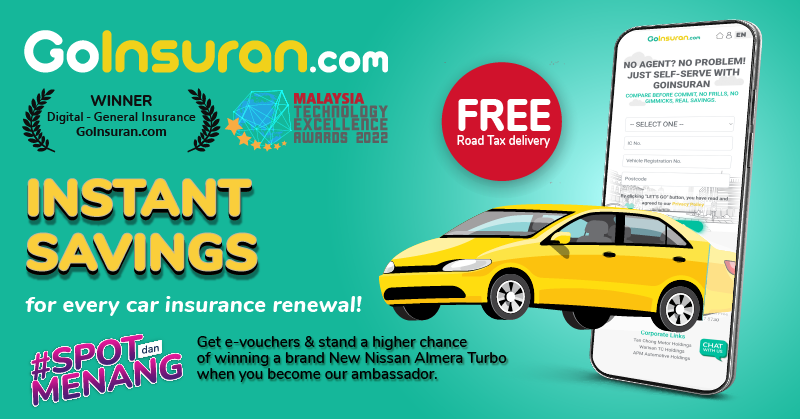 GoInsuran
No queues, no traffic jams, no crowd! That's what you'll enjoy when you renew car insurance and road tax with GoInsuran. Get it done, from wherever you are. As long as you've Internet connection, you're good to go. Jom, try a new way of renewing car insurance and road tax in this digital era.  
More reasons to choose GoInsuran? Here are 4 awesome reasons!  
Single request, get 14 quotations  
Yes, that's price quotations from up to 14 insurers. You'll get to choose the best of the best insurance deals in Malaysia. Stretch your Ringgit by choosing the best one that fits your needs and budget.  
FREE road tax delivery 
Upon successful online payment, your car's road tax will be delivered right to your doorstep within 3 working days. No fuss, no hassles!  
Win RM100 Shopee voucher + RM30 TNG credit + Nissan Almera  
Get a #SpotdanMenang sticker, stick it on your car's windscreen, take a photo and tag friends. That's it! Be sure to share this with your family and friends, and get them in on the fun! Better yet, you could ALL win the Shopee voucher and TNG credit. Sure dapat if you complete the simple steps. 
More than 100 people have gotten their RM100 Shopee voucher + RM30 TNG credit. Don't miss out! Click here to find out the easy steps. 
Award-winning insurance platform 
GoInsuran.com won the General Insurance category (Digital) in the Malaysian Technology Excellence Awards 2022! We're humbled and are very inspired to continue ensuring that Malaysians can purchase insurance easily – all within a few clicks, and as short as 3 minutes. 
And of course, payments for car insurance renewals are processed via a secure gateway.     
Don't say we don't share good stuff, ok? Get on it now, by submitting your request for quotations here. No gimmick, no obligations! 
Important considerations for car insurance renewal 
Decide on type of car insurance: i) Third-party ii)Third-party, fire and theft iii) Comprehensive 
Select add-on covers: Special peril (flood, landslides, etc), additional drivers, windscreen, and more 
Check your NCD (No Claim Discount): Private vehicle enjoys discount of up to 55% discount  
Sum insured: The maximum amount a car can be insured according to its current value 
Want more important insights on car insurance and road tax renewal? Click on this link.  
Related articles: