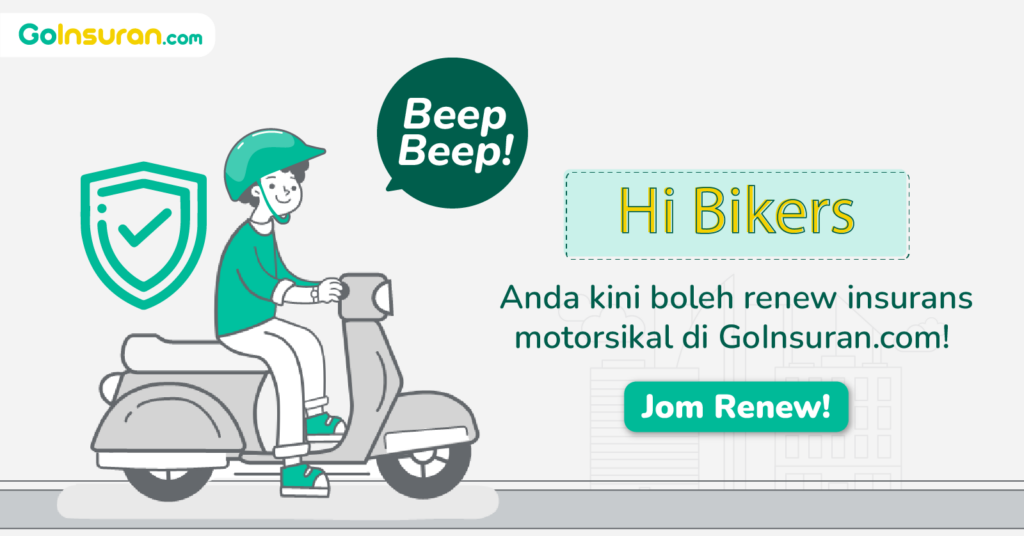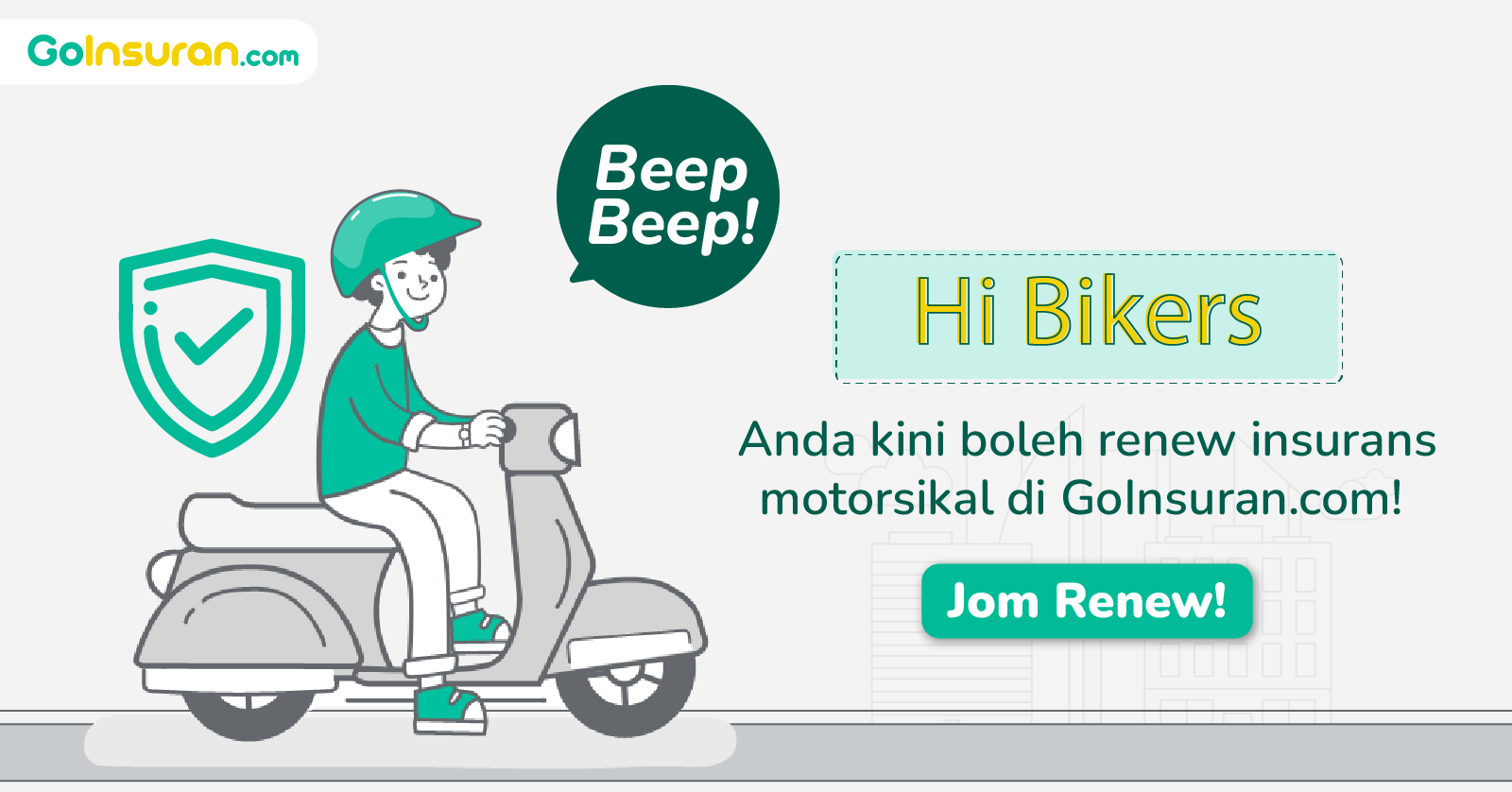 Travelling via motorcycle is certainly a quicker way to get around, but doing so comes with some risks. In fact, Malaysia recorded 4.94 million accident cases, with the number of road accidents increasing from 414,421 cases in 2010 to 567,516 nine years later in 2019.
From Jan 2021 to Oct 2021, 7 out of 10 deaths on the road in Malaysia were motorcycle users. Official figures by Bukit Aman's traffic department show that motorbike users accounted for 70.2% of the nationwide fatalities of 2,954 (all types of vehicles) from Jan to Aug 2021.
According to Persatuan Insurans Am Malaysia (PIAM), one of the largest insurance sector and coverage is motor insurance. Afterall, motor insurance is mandatory for all vehicles using Malaysian public roads under the Road Transport Act 1987. The fine for riding a motorcycle without insurance is up to RM2,000 or three months' jail time or both.
Motorcycle insurance is extremely helpful in the event that you hit something or someone gets hurt while riding your bike. Apart from it being mandatory, motorcycle insurance is also important because of these factors.
Protect yourself and family members
By getting a comprehensive motorcycle insurance, the insurer could provide financial coverage for the repairs of your motorbike, your injuries and third parties' injuries, if an accident happened. Some add-ons could help reimburse the loss of motorcycles due to natural disasters or riots.
Provide protection for third parties
One of motorcycle insurance's purposes is to protect you against third-party damages. Should other road users be injured or killed as a result of injuries sustained whilst riding your motorcycle, the insurer will provide reimbursement to the third party.
Based on insurance claims, statistics by the Vehicle Theft Reduction Council of Malaysia Bhd (VTREC) showed that in 2018, more than 7,500 motorbikes were stolen, with the majority of these being the rather popular underbone motorcycles with engines below 150cc (also known as kapchai). With a comprehensive motorcycle insurance, the insurer will provide reimbursement for your loss.
Types of covers
This is the most basic motorcycle insurance available. It provides coverage in the event of an accident, such as injuries, deaths, or damages to the motorcycle. However, it doesn't provide any coverage to you, only to the third party. Therefore, you'll not be able to claim for any injuries, deaths, or damages to your motorcycle, but you can claim for compensation to be made to the third party.
Third Party, Fire and Theft
This usually covers claims made against you by a third party in the event of a motorcycle accident which caused bodily injuries, death, property loss, or damage caused by your motorcycle. It also provides coverage on damages from a fire, explosion, lightning, or theft of your motorcycle.
A comprehensive insurance usually has all the coverage in the Third Party, or Third Party, Fire and Theft policies. It covers both the third party, and your motorcycle. You will be protected for any damages or loss caused to your motorcycle. Some comprehensive insurance policies also cover the pillion rider.
| | | | |
| --- | --- | --- | --- |
| Coverage | Third Party | Third Party, Fire & Theft | Comprehensive |
| Death or injury to other parties | y | y | y |
| Damage to other parties' property | y | y | y |
| Loss/damage to your vehicle caused by theft or fire | – | y | y |
| Damage to your vehicle due to accident | – | – | y |
Some motorcycle insurance policies provide a wider coverage than others. So, be sure to get the coverage you want.
Motorcycle insurance normally doesn't cover the following:
Any consequential losses, loss of use, and depreciation
Any loss or damage to your motorcycle accessories
Any mechanical, electrical or electronic breakdown, or any other failure or breakdown to your motorcycle
Any loss or damage to your motorcycle caused by natural disasters
Any loss or damage, including theft, caused by or attributed to the act of cheating or criminal breach of trust by any person
Any bodily injury or death caused to you in the event of a motorcycle accident
Any liability claim from your pillion passenger in the event of a motorcycle accident
However, some insurance policies provide these coverages as an add-on coverage, with an additional premium price. Communicate with your preferred insurer to request for these additional covers.
Is there any discount?
Generally, the sum insured should be at least worth the market price of your motorcycle. This is to ensure that it's sufficient to cover the claims for the loss and damage caused to your motorcycle.
If riders do not make any insurance claim during the preceding period of the insurance, then they'll benefit from the No Claim Discount (NCD). NCD discounts will increase over the years. However, once an insurance claim is made, the insured will lose their NCD entitlement. The amount of NCD received depends on the type of motorcycle, coverage, and the number of years the insured has not made a claim. Normally, motorcycles can get up to 25% of NCD.
Regardless of the motor insurance policy that you purchase, always ride safely, and think about those who care for you!
Psst! You could win a car with GoInsuran! Just participate in the #SpotdanMenang contest for a chance to win. Click here for details!