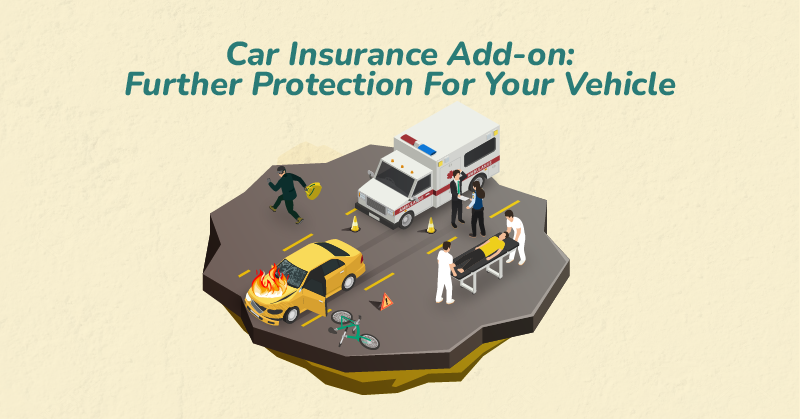 So, you already have comprehensive car insurance coverage. Do you need add-on car insurance protection? Well, that would depend on how risk-averse you are.  
It's always a good idea to get as much coverage for the "what ifs" which could happen at any time, especially if you're going to be on the road during the major festive seasons in Malaysia, living or working in flash flood prone areas, dropping the kids off everywhere every day, or going on a road trip during long weekend holidays (which Malaysia seems to have a few!)  
To add on insurance, or not to add on?  
That seems to be the question, isn't it? A comprehensive car insurance plan typically covers damages to a car from accidents and fire, as well as theft. With add-on car insurance, you can ensure that your family members, whether they're passengers or co-drivers, get the best possible protection from unforeseen incidents.  
Typically, car insurance add-ons in Malaysia cover against additional risks, such as windshield damage, floods, landslides and more. 
Boss, tolong tambah! 
Okay, you've decided to have add-on car insurance. Now, let's see what your options are and discover how they can add more value to you and your family members.   
Additional Named Driver

 


If your wife, children, or other family members frequently drive your car, or perhaps there are instances when you'd regularly take turns driving on trips during Christmas or the year-end, then this should be added to your car insurance plan.

 

If an accident happens with an unnamed driver behind the wheel, insurance companies will usually reduce the payout by a few hundred Ringgit. With Additional Named Driver, the named driver will have the same level of cover as the main insured driver (policyholder). If you want to add more named drivers, you'll need to pay an additional small sum for every additional driver.
Advice: Get Additional Named Driver if you regularly have other people drive your car. 

Windscreen Coverage

 


Windscreen damage is something that can easily occur when you're driving on the highways during

balik kampung

trips. All it takes is one wayward pebble that has dislodged itself from a moving truck to strike your windscreen to cause a chip. 



The windshield premium is usually 15% of your car windshield's value. So, if the value of your car's windscreen is RM1,000, then you'll pay only RM150. That's a far cry from the full amount of replacing your car's windscreen. 

This add-on covers accidental breakage of your windscreen and/or windows. Your vehicle's NCD (No Discount Coverage) is not affected in the event of a replacement claim with GoInsuran.



Advice:

Get Windscreen Coverage

if you often

drive long distances or frequent areas with construction work.

 





Special Perils


Malaysians can relate to this, especially floods, windstorms, and landslides. The weather is erratic, to say the least, frequently switching between storms and sunshine. You're even more vulnerable, when you're travelling to unfamiliar areas during your trips.

So, you could be in for a surprise, and even suffer financial consequences as your basic car insurance plan doesn't cover damages to your vehicle due to flood, windstorm, typhoon, volcanic eruption, earthquake, landslide or subsidence (classified as Acts of God). That's where the Special Perils add-on comes in. 

It provides some financial protection when your car is damaged from nature-related causes. 



Advice:

Get Special Perils

if you live in and travel to areas prone to floods and landslides, or travel to hilly areas. 

 
Strike, Riot & Civil Commotion


Historically, strikes, riots and civil commotion is a low possibility in Malaysia, but it's still a possibility. All it takes is someone to trigger and build tension that could lead to a commotion. 


Advice:

 

If you don't intend to purchase this add-on, use your best judgement and avoid parking on dark streets or open areas where your vehicle might be susceptible, especially during a tense period.

 
Legal Liability to Passenger (LLP) 


This add-on insures the driver, in the event the driver is being sued by passengers for negligence. For example, you've friends in your car during a road trip over a long weekend, and an accident happens due to your negligence. After all, we know how taking your eyes off the road for a split second is all it takes for an accident to occur.

When that happens, your friend(s) can take legal action against you for the injury or injuries sustained. This add-on compensates for the financial loss you might incur from such events.  

Do note that this add-on coverage is required if you're driving your car into Singapore.



Advice:

 

Get Legal Liability to Passenger if you frequently give lifts to friends or colleagues, or always use your car for road trips with friends. 

 
Legal Liability of Passenger to Third Party (LLOP)


This add-on covers for bodily injury caused by your passengers. For example, you're on a road trip with your friends during the Chinese New Year holidays. You're driving your car, and your friend throws something out of your car's window. That item hits a pedestrian and causes the pedestrian to have a head wound or injurty. You could then be sued for causing the pedestrian injury as the item came from your car. 

This add-on covers bodily injury claims, and claims of property damage of up to RM3 million – subject to individual policy terms and conditions signed when purchasing the LLOP insurance. Do note that this is not applicable to commercial vehicles.



Advice:

 

Just like the LLP coverage, you could get LLOP if you've friends and colleagues in your car very frequently. 

 
Personal Accident Insurance


We've covered LLP and LLOP, and now it's time to get yourself insured against accidents. This add-on car insurance provides coverage against accidental injuries when you're on the road, be it your daily drives or a holiday trip with family and friends. 

It covers reimbursements for medical expenses resulting from accidents, hospitalisation benefits that help pay for alternative treatments, and a lump sum payout should accidental death occur.



Advice:

 Get the Personal Accident Insurance if you don't currently have any other medical or personal accident insurance.

 
Fact is, all add-ons come with its share of benefits, and they're good-to-have especially if you're on the road for long hours or often. Select those that are relevant to you, and best serve your driving needs.  
For details on the GoInsuran Add-on Protection, click here. As they say, malang tidak berbau, so it's good to be prepared.  
Related articles: