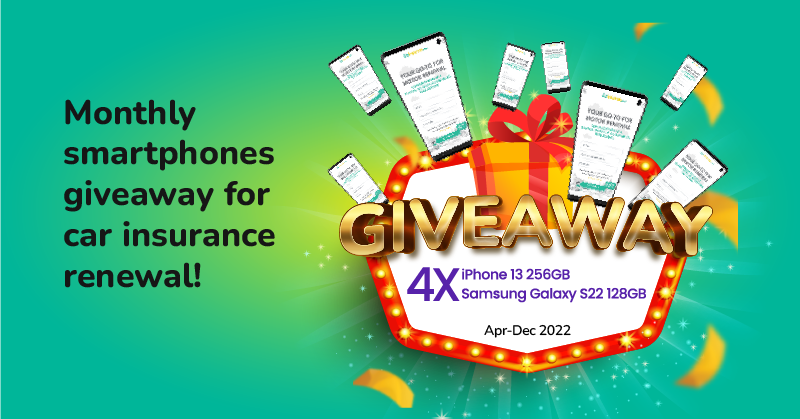 If you have a car, you have to renew your car insurance yearly. It isn't an option. So, when you're going to renew the insurance, why not give yourself a chance of winning a swanky new mobile phone. But that only happens when you renew it with us at GoInsuran! 
Those who renew with GoInsuran from now till December 2022 are entered into the giveaway automatically and could win an iPhone 13 256GB (RRP: RM4,599) or a Samsung Galaxy SS22 128GB (RRP: RM3,499). One of these phones are up for grabs monthly! 
Prizes in the GoInsuran Car Insurance Renewal giveaway 
iPhone 13 256GB x 4 
Samsung Galaxy S22 128GB x 4 
How to renew? Here are 2 easy ways. 
Shopee: Our GoInsuran Customer Experience Agent will call you directly to provide you with quotes, and assist you throughout the renewal process and delivery of road tax. 
If you don't have the Shopee app yet, download it FREE on the Apple App Store and Google Play Store.   
Website: Get price comparison and renew directly in the GoInsuran website.  
Reminder! Consider car insurance add-ons such as special perils to cover flood damage and more.  
Want to know more about car insurance and road tax renewal? Check this out.