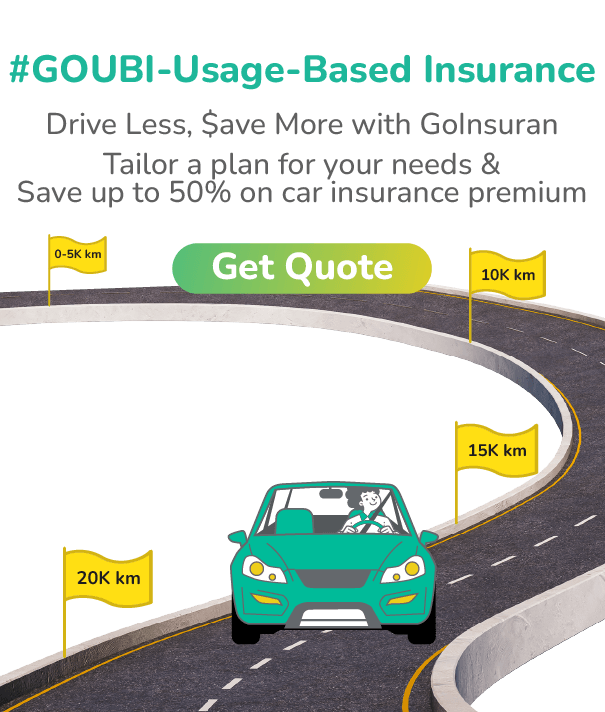 Not driving much these days? No problems, get discount for driving less. Exciting news for all drivers! Driving less these days doesn't only save your fuel, but also allows you to save on your car insurance premium. Simply choose a mileage plan and drop your details, we'll get back to you with a quote!
Your car is having a good snooze!  Drive Less, $ave More with GoInsuran.
Select a customised mileage plan based on your usage so you can save more on your annual premium and rebate! 

Plan 1
Main advantage is no coverage downgrade although the mileage is exceeded.
Product Plan / Features

 

Pricing

 

Coverage duration

 

MP1 – Less than 5000km

 

40% saved

 

1 year 

can top up to higher plan 

MP2 – Less than 10,000km

 

25% saved

 

MP3 – Less than 15,000km

 

15% saved

 

MP4 – Less than 20,000km

 

5% saved

 
** if exceeding the mileage during the accident, you will have to bear part of the cost in the same percentage as the premium rebate, for example MP4 – 5%. The miles travelled is the difference between the odometer readings at the time of purchase and at the time of accident. 
Instant premium rebate upon sign-up

 

No interim odometer submissions needed.

 

No downgrade to third party cover when you exceed your mileage.

 

Enjoy 7-day bonus mileage upon sign up.

 

Enjoy the option to top up without underwriting fee

 

Eligibility: All private cars with comprehensive cover.

 
Steps: 
Choose your desired mileage plan
Snap a photo of your car odometer reading and 4 sides of your vehicle
Send the photos to our Customer Experience at connect@goinsuran.com
Purchase completed! You've just saved on your car insurance premium
Plan 2
Drop your info in the form and we'll be in touch with quote and get it going for you!