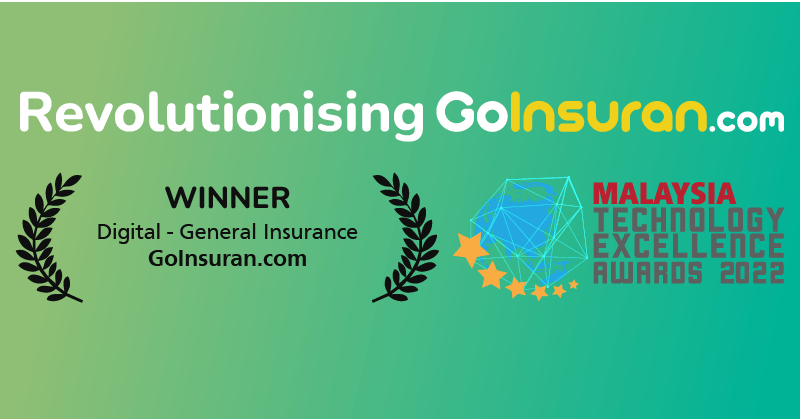 GoInsuran
GoInsuran reached a major milestone in April 2022! We won the General Insurance category (Digital) in the Malaysian Technology Excellence Awards 2022. It's a wonderful recognition of our efforts towards revolutionising the insurance industry, but more importantly, a testament to our goal of making it easier for Malaysians to purchase insurance within a few clicks.    
This platform gives the insurance sector a digital push and will also positively contribute to the auto and financial sector as we move towards introducing more insurance products and services to you. 
Car insurance purchase and renewals 
GoInsuran started off by offering an easy way for you to renew car insurance and road tax. Launched in 2020, GoInsuran has grown quickly to realise its vision of becoming a one-stop insurance e-platform. Today, car insurance buyers can enjoy a convenient and seamless experience with GoInsuran. There's really no need to queue when you need to purchase or renew car insurance anymore! 
The GoInsuran platform operates as a real-time e-platform where you can renew car insurance in as fast as 3 minutes. We focus on engaging insurance companies that have existing API, so that you can get quotes immediately and proceed with renewal via a secure payment gateway. There's FREE delivery of your road tax too! 
Growing suite of products  
GoInsuran has also introduced insurance to cater to various lifestyles, such as Travel Insurance #GoTravel, and Personal Accident insurance which includes coverage for COVID-19. That's not all! We'll be launching medical and home insurance, and plan to offer insurance for your pets, and other affordable products and solutions.  
GoInsuran Executive Vice President, James Tan, shares, "We are confident and have diversified our digital channels to be more competitive to promote our products and services through partnership with established e-commerce, financial institution and telecommunication brands in driving further visibility of our platform and improve customer experience journey!" 
Our website, GoInsuran.com features three languages – English, Bahasa Malaysia, and Chinese – and the language selector is located at the top right-hand corner of the website in desktop view. So, be sure to use it!  
GoInsuran will also be offering Buy-Now-Pay-Later option and Credit Card Easy Payment Plan, ranging from 6 to 12 months with zero interest rate. These were crafted to assist market segments that need them, so that they can receive basic insurance coverage via affordable instalment payments. 
We also provide a full range of services throughout the pre-sales, sales, and after-sales phases. Our customer support team is always ready to assist you with product info, support your insurance claims, or address your insurance enquiries. 
Backed by a well-established group 
The GoInsuran platform is powered by Tan Chong Insurance Business Stream (TCIBS), the insurance and business division of Tan Chong Motor Holdings Berhad (TCMH Group). The group has more than 50 years of experience in the market, and it recognised a business opportunity to develop and grow an e-platform that offers highly attractive, innovative, and competitive general insurance products.  
Head of Tan Chong Insurance Business Stream, Joshua Yong, highlights, "We take pride in embracing technologies and solutions as a way to optimise and enhance its customers' journey and experience with cost savings through a carefully designed and planned digital blueprint." 
Car insurance due for renewal?  
If yes, be sure to renew it with GoInsuran and you could win an iPhone 13 Pro Max 256GB or a Samsung Galaxy SS22 128GB. Start by getting a quote now.   
Want more rewards? Participate in the GoInsuran #SpotdanMenang contest for a chance to win a Nissan Almera 1.0L Turbo VL! 
GoInsuran is on a growth journey and we'll be offering more products and services to cater to individuals from all walks of life! So, be sure to follow our social media pages (FB page / IG page) to stay updated.