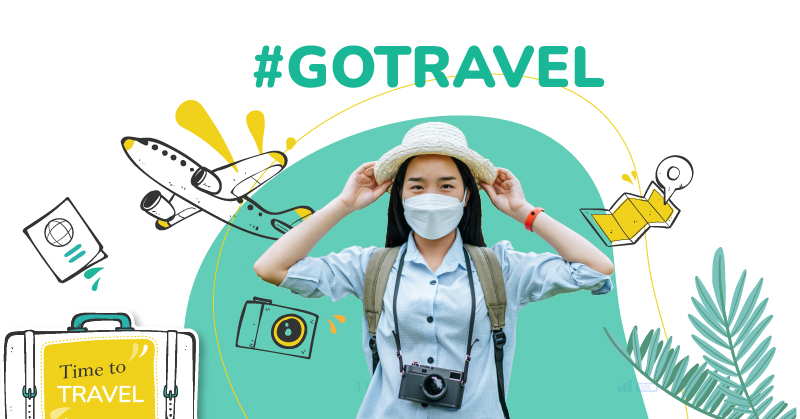 GOTRAVEL
First came the Langkawi travel bubble, and then Vaccinated Travel Lane (VTL) with several countries. Borders are slowly, but surely, opening up. With that, there's an expected pent-up travel demand (or some would say, "travel revenge") as more start to venture across states and countries.
As the travel industry recovers, a higher take-up in travel protection is to be expected. Some governments require travellers to purchase travel insurance with Covid-19 medical expense coverage as a condition of entry. Even if there's no such requirement, it's always prudent to have travel protection as travel during a global pandemic is fraught with uncertainty. Plus, each country's travel restrictions could change at any time, which is all the reason one need to purchase travel insurance.
While travel insurance was a good idea pre-Covid-19, it is considered an essential now.
Traveller must-know before upcoming trips
Book flexible air fares and accommodation packages that will allow rescheduling, refund or credit your booking if Covid-19 prevents you from travelling. If the fare for your new flight is higher than the amount you paid for the original ticket, you'll have to pay the difference.
Monitor official government advisories, notifications from airlines, and companies which you made travel reservations with. Staying in the know could help avoid unnecessary troubles, or at least, prepare you for one.
Tap into online communities
Join online forums or groups for useful tips from the travel community. Many travellers have experienced situations which could prove helpful to you down the road.
Read the disclosure statement, a document outlining all the situations in which your travel insurance will apply, before purchasing any travel insurance product.
Insurance helps mitigate many expenses associated with travel risks, but it doesn't eliminate that risk entirely. When choosing travel insurance, do your research, ask questions, and decide how much peace of mind is really worth to you. Once that's all done, remember to pack masks and sanitisers (be sure to check the limit) for your trip!
Common coverage for travel insurance
Today, most travel insurers provide Covid-19 coverage, as a specific Covid-19 travel insurance, integrated into a main policy, or as an add-on rider. Here are some of the more common coverage that travellers seek.
If you're vaccinated and boosted, and in good health, any Covid-19 infection should be fairly mild. Nevertheless, it's important to have coverage for Covid-19 medical expenses, whether as an outpatient with consultation with a doctor or admission to hospital.
Be aware that some countries require foreigners to buy travel insurance with a specified minimum coverage for Covid-19 medical treatment. You'll usually need to present your travel insurance certificate before boarding the flight.
Emergency medical evacuation
In the event you contract Covid-19 and your situation deteriorates, you may need to be evacuated to Malaysia for further treatment. That could be an expensive process. You may want your travel policy to adequately cover this circumstance. Check the travel policy on whether it provides separate coverage for medical expenses and emergency medical evacuation.
Getting a positive result on a polymerase chain reaction (PCR) test upon arrival is not a great way to start your vacation. If you're are asymptomatic or mildly symptomatic, you'll need to pay for accommodation in a gazetted hotel to self-isolate. If the hotel you've pre-booked accepts stays for self-isolation, then that helps as you'd have already booked a few days of stay.
However, if you booked a room or unit with Airbnb, this is stated in their website, "Guests who present risks of infection due to a positive diagnosis/test, symptoms, or exposure to a confirmed infection case should not use Airbnb for the purpose of self-isolation." Guests would need to reach out to Airbnb's Community Support team so that they can assist with a penalty free cancellation.
Getting a positive result on your pre-departure PCR test (back to country of origin) could be expensive because you need to book accommodation beyond your originally envisioned return date as you wait for the all-clear. A quarantine allowance will help to relieve the financial cost of this turn of event.
If your pre-departure PCR test returns as positive, then you'll probably need to cancel your trip. Trip cancellation protection offers reimbursement for forfeiture of deposits or charges that are unrecoverable. This could be flights, hotels, and tickets to attractions. Insurers might request for proof that your request for a refund with the merchant was denied.
Generally, travellers can cancel an insurance policy within 14 days of having taken the policy out.
The GoInsuran #GoTravel insurance
We've recently launched an affordable #GoTravel insurance plan that's great for travellers! It covers:
Medical, Hospital & Other Expenses up to RM500,000
Travel Cancellation, Curtailment, & Loss of Deposit
Emergency Medical Evacuation & Repatriation
Overseas Quarantine Allowance Due To Covid-19
Personal Accident (up to RM500,000) & Personal Liability (up to RM1mil)
Want more info or quotation for the GoInsuran #GoTravel insurance plan?