At GoInsuran, we recognize the paramount importance of hassle-free renewals. Our infrastructure is intricately designed to streamline the renewal process, ensuring a straightforward experience for you. Our user-friendly system guarantees a smooth continuation of your car insurance, devoid of unnecessary complexities. By choosing us to handle your renewal, you gain access to a wide array of exclusive benefits.
WHY GOINSURAN?
Quickly and effortlessly compare prices from top insurers in

one glance.

 

Get

live quotes

from up to

12 leading insurers

.

 

Renew your car insurance

as fast as 3 minutes

.

 

Trust our reputable service for a secure renewal process,

backed

by the esteemed Tan Chong Group.

 

24/7 support

for roadside assistance.

 

Genuine parts replacement and paintwork warranty.

 

Enjoy extended betterment charge waiver and keycare cover* (applicable to Tan Chong car brands only).

 

Secure fair compensation with 100% agreed value. 
Special offer for POMEN User
Pomen users can now enjoy an additional discount by utilizing the promo code GOPOMEN when renewing their car insurance. Our partnership with POMEN enriches your automotive journey with this exclusive opportunity, magnifying the advantages of your renewal process.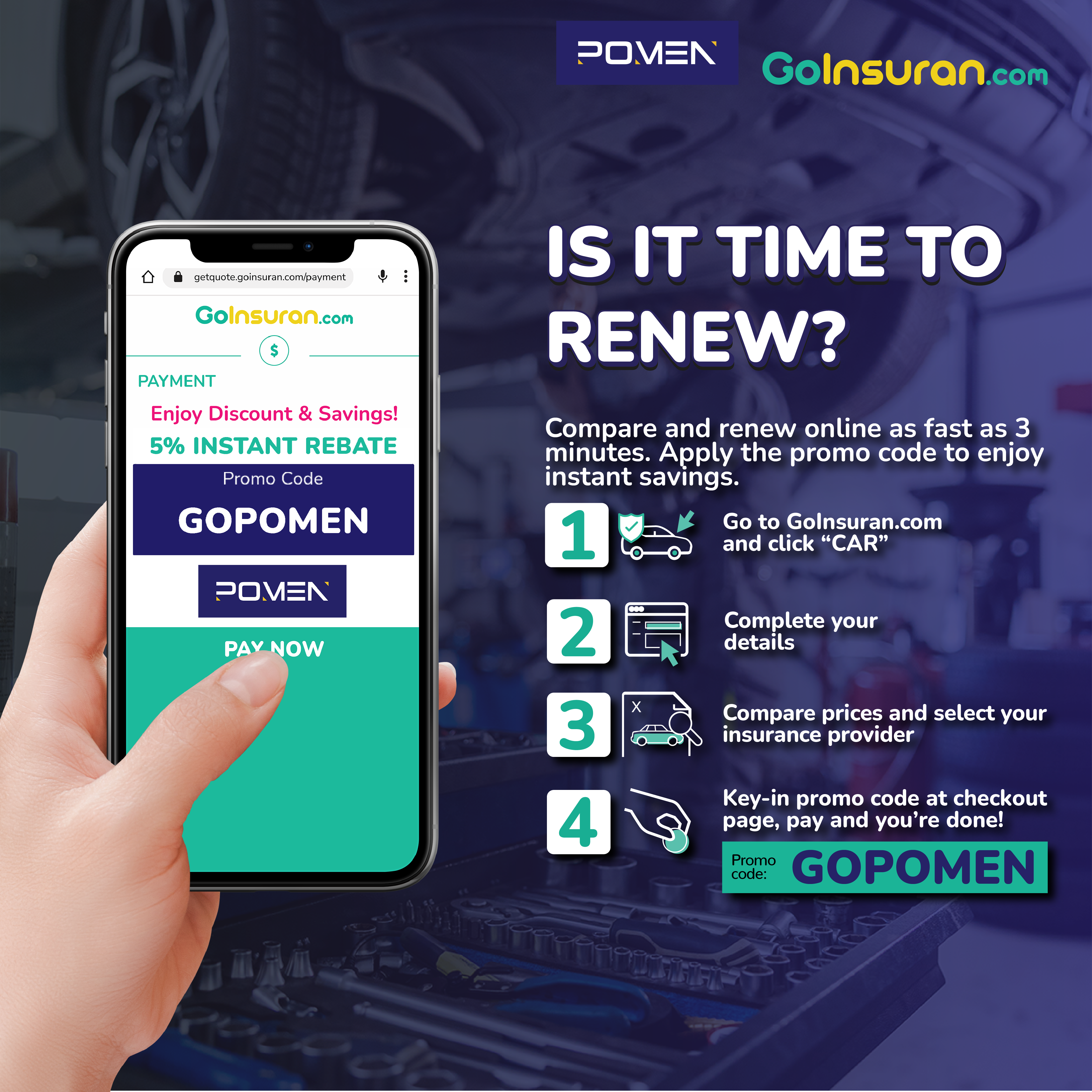 How to enjoy extra savings:
Enter your car and personal details.
Customize your renewal by selecting benefits and choosing the insurance price from Malaysia's top insurers. 
For extra savings, enter the promo code GOPOMEN during payment checkout. 
It's as straightforward as that! Renewing your car insurance has never been this convenient.
Digital Transformation & Real-Time Analytics. Business solution for connecting multi services for automotive, logistics, operations and manufacturing industry & harnessing the data through analytics reporting tools. Established in 2018 POMEN provides ICT solutions, engineering, software development and consultancy for automotive aftersales ecosystem, assets management, ERP and mobile apps development as a core business. What makes POMEN unique is our logical approach on innovating simple but powerful interactivity content focusing on its relevance and usability, apart from visual brilliance. POMEN consists of experienced and knowledgeable team-players. We strive for excellence and quality in every minute detail of our work with pride and professionalism. Our focus is to help business use our technology and create better efficiency for the operations and increase the revenue.