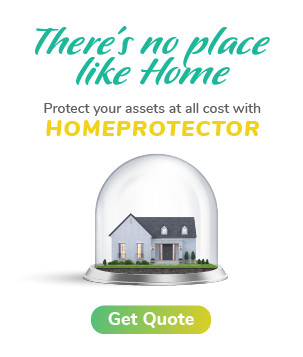 Safeguard your Home for your Loved Ones
Choosing the right home insurance plan is crucial in times of adversities. Whilst you can't prevent acts of god and other unforeseen disasters, you can certainly protect yourself from financial burden and give yourself and your family a chance to rebuild. Homeprotector is a home insurance protection plan that is designed to protect your home and its contents as well as personal effects, persona liability and personal accident.

Worldwide Personal Accident – RM10,000 per person up to maximum 5 family members residing with you
Emergency Cash Allowance or Inconvenience Allowance – payable up to RM1,500
Cost of Replacing Burst Water Pipe including Hacking and Plastering – payable up to
RM1,500
Fraudulent Use of Credit/ATM Card – payable up to RM1,000
SPECIAL FEATURES
PLANS
COVERAGE
SPECIAL FEATURES
Unlike some other insurance policies, Home Protector Enhanced does not apply any "per article limit" to your contents.
No penalty for under insurance.
The full cost of repairing the damage to property is paid without any deductions being
made for wear-and-tear or depreciation.
PLANS
COVERAGE
Drop your info in the form and we'll be in touch with quote and get it going for you!