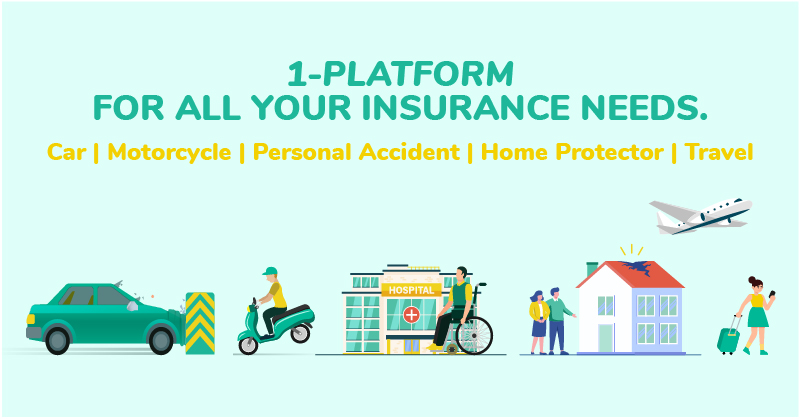 We strive to be the one-stop insurance e-platform for the coverage that you need for various aspects of your life. From travel insurance to home insurance, car insurance to personal accident insurance – it's available in this GoInsuran portal.
Now, let's take a quick look at GoInsuran's comprehensive range of insurance plans.
Car and motorcycle insurance renewals
Insurance is a necessity and required by law in Malaysia when you purchase a vehicle. So, be sure to bookmark this website and keep it handy when it's almost time to renew your car or motorcycle's insurance policy.
GoInsuran is a real-time e-platform where you can renew car and motorcycle insurance in as fast as 3 minutes. You can get quotes immediately and proceed with renewal via a secure payment gateway. There's FREE delivery for your road tax too!
If you're renewing your car insurance, be sure to include add-ons such as special perils if you'd like coverage against flood damage and more.   
Those who renew with GoInsuran from now till December 2022 are entered into the GoInsuran Car Insurance Renewal giveaway automatically and could win an iPhone 13 Pro Max 256GB (RRP: RM5,799) or a Samsung Galaxy SS22 128GB (RRP: RM3,499). One of these phones are up for grabs monthly! 
Related articles:
Travel insurance – #GoTravel
GoInsuran offers two travel insurance plans – Conventional and Takaful. Here's a quick look at each of the plan's key benefits.
| | |
| --- | --- |
| Conventional | Takaful |
| High sum insured up to RM1,000,000 for medical expenses | Cashless medical care |
| Emergency evacuation as charged or up to RM1,000,000 | Loss of baggage – Baggage claims paid on covered amount via WhatsApp |
| Trip cancellation and travel delay | Travel delay – Get paid RM100 for a 2-hour flight delay, even without submitting a claim. |
| Cashless admission for accidental injury | Extra peace of mind should the unexpected happen due to COVID-19 |
| Emergency travel assistance 24/7 | |
| Lifestyle Coverage – Golfers Cover & Pet Care | |
GoInsuran offers travel insurance from as low as RM 4.40 per day, and that includes COVID-19 protection. Find out more about each travel insurance plan or get a quote here.
Related article:
Protect assets in your home – #HomeProtector
Unlike some other insurance policies, the GoInsuran Home Protector Enhanced does not apply any "per article limit" to your contents. There's also no penalty for under-insurance, and the full cost of damage repairs to the property is paid without any deductions for wear-and-tear or depreciation.
Here are the key benefits from insuring with GoInsuran #HomeProtector.
Worldwide personal accident – RM10,000 per person; up to a maximum of 5 family members residing with you
Emergency cash allowance or inconvenience allowance – Payable up to RM1,500
Cost of replacing burst water pipe including hacking and plastering – Payable up to RM1,500
Fraudulent use of credit card or ATM card – Payable up to RM1,000
Want to safeguard your home and family from the unexpected? Get a quote for GoInsuran Home Protector Enhanced here.
Related article:
Personal Accident insurance – #PersonalAccident
GoInsuran has handpicked the best personal accident insurance for you. It includes coverage for you and your family, wherever you are around the globe. Here are some of the key benefits:
1 plan with unlimited number of children
Bereavement allowance and medical expenses that cover COVID-19
Cashless admission; up to RM5,000
24-hour worldwide cover
Renewal bonus; up to 120%
GoInsuran's personal accident insurance plan's premium is as low as RM0.30 per day, and that includes COVID-19 protection. Find out more about the GoInsuran personal accident insurance plan or get a quote here.
Related article:
GoInsuran is on Shopee too!
You may get quotes and purchase insurance via this GoInsuran portal, or refer to our official Shopee page.