Wanderlust has reignited, breathing life into the travel industry post-pandemic. However, embarking on your next holiday demands a new kind of travel companion: comprehensive protection.
Enter the game-changer, a partnership between GoInsuran #GoTravel and Mayflower, a leading total travel service specialist in Malaysia, catering to both individuals and corporations with its diversified range of services since 1960. 

Together, you can say that it's your newfound passport to fearless exploration and epic adventures.  
Where epic adventures meet ultimate protection
So, what does it really mean for travellers? Well, you get the best of both worlds; the best travel deals, flights, hotels, attraction tickets, and curated travel packages from Mayflower, together with comprehensive travel insurance handpicked by GoInsuran for you!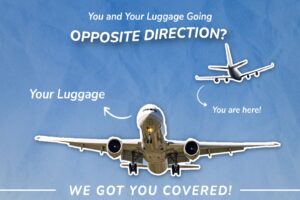 Picture this: You've meticulously planned your next getaway, and it's at risk due to unforeseen circumstances – a sudden illness, a missed connection, or an unexpected event at your destination.  
This is where GoInsuran #GoTravel insurance policy shines. With comprehensive medical coverage, trip interruption benefits, and an array of features that anticipate your needs, this policy is a testament to GoInsuran's commitment to nurturing holistic travel. 
Why do you need this power combo of Mayflower and GoInsuran? 
Gone are the days when travel protection was an afterthought. The Covid-19 pandemic has made travel more uncertain than before. Flights can be cancelled, borders can close, and even if you do make it to your destination, you could be exposed to a new virus or other health risk. 

Mayflower and GoInsuran recognise this shift and have come together to ease your travel booking and cuti-cuti experience!  
A good example is this: When you renew your vehicle's road tax, you're often presented with several insurance options. So in this travel scenario, you'll have the option of adding GoInsuran's travel insurance when you book with Mayflower! It's easy, quick and seamless.  
#GoTravel insurance: Only from RM4.40 per day!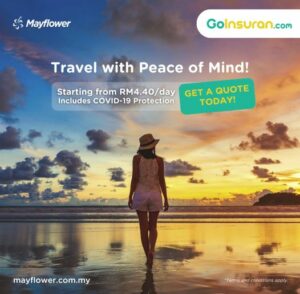 That's why it's more important than ever to have travel insurance. Travel insurance can protect you from financial loss in case of trip cancellations, medical emergencies, and other unforeseen events. 
GoInsuran #GoTravel
offers a comprehensive travel insurance policy that covers a wide range of risks, including:
Trip cancellations and travel delay

 

Emergency evacuation

 

Medical expenses coverage

 

Emergency travel assistance 24/7

 

Lifestyle coverage: Golfers cover and pet care

 

Cashless admission for accidental injury

 

Lost of baggage

 

Trip cancellations, hospital allowance and hospitalisation due to Covid-19

 
So, heed the call of wanderlust and embark on your next holiday, secure in the knowledge that while epic adventures await, comprehensive travel protection accompanies you every step of the way.  
For more details on GoInsuran #GoTravel, or to get a quote right now, click right here: https://www.goinsuran.com/travel/  
Ready, jet set, go! Book your next holiday with Mayflower here: https://www.mayflower.com.my/