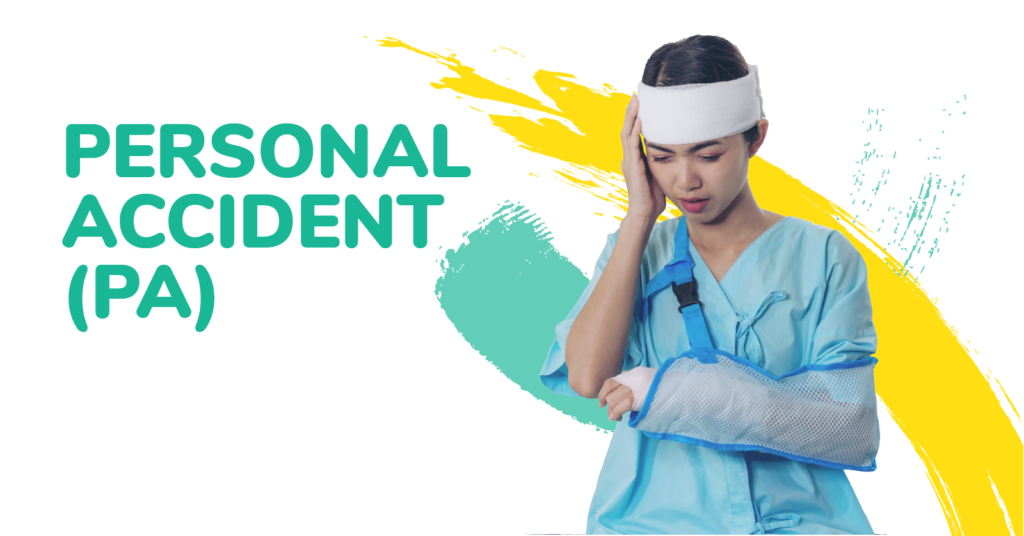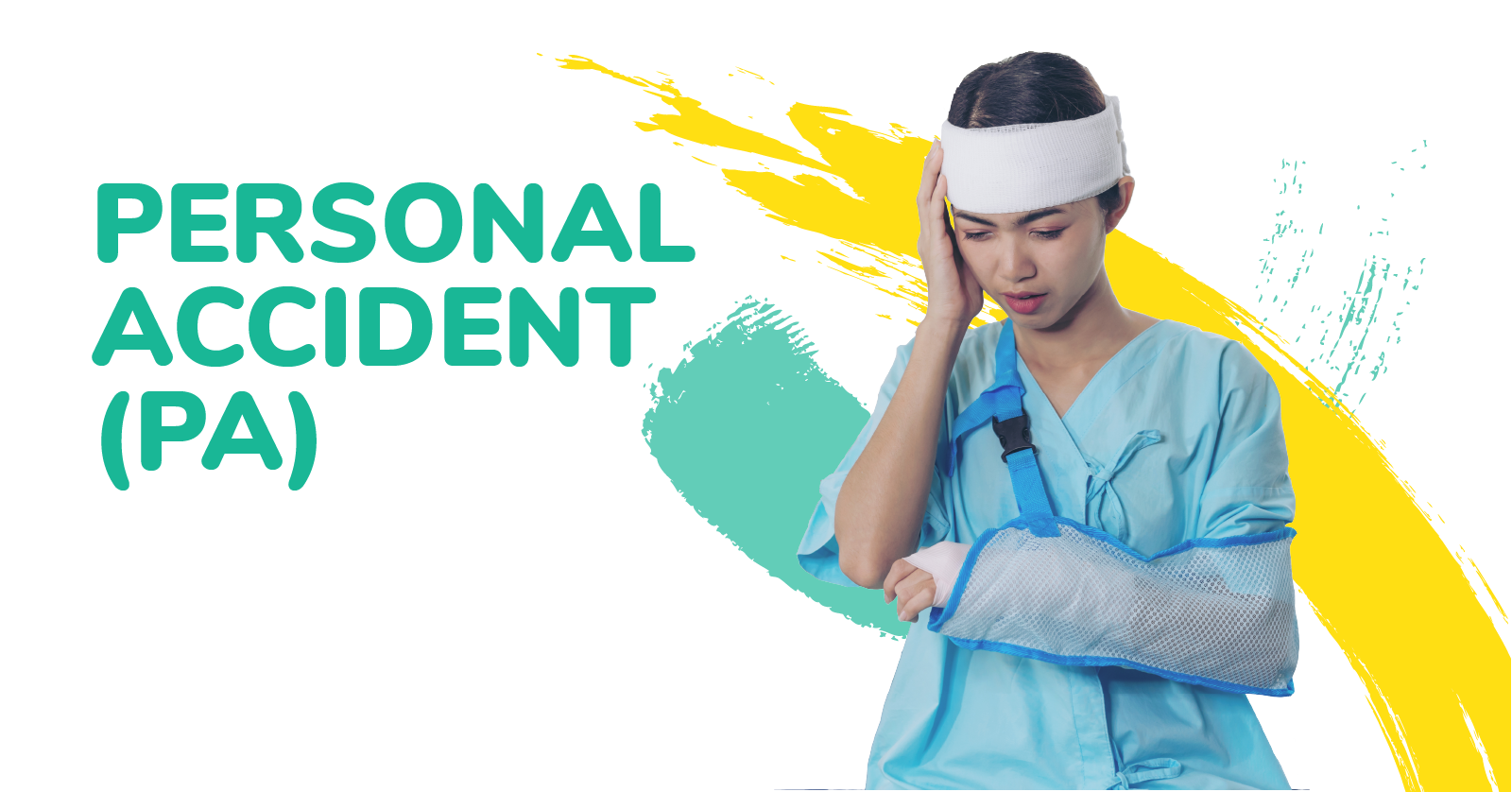 Accidents happen, no matter how careful we try to be. It could be due to our own clumsiness or tiredness, out of our control such as a careless driver, having a job that involves the operation of heavy machinery, or constantly being on the road. While a lot of things are beyond our control, this one is well within our control – getting protection against personal accidents.
Personal Accident (PA) insurance
Financial coverage for health and life insurance policies are for certain parts of your life, and the supplemental coverage from a personal accident insurance plan is a worthwhile addition.
A personal accident insurance policy provides financial coverage in the event of injuries, disability or death caused solely by an accident. Personal accident insurance is renewed annually aka yearly premium.
| | |
| --- | --- |
| Financial coverage | Major exclusions |
| Accidental death Permanent disablement Medical expenses Hospitalisation benefits Funeral expenses Weekly indemnity Repatriation benefits | War, terrorism, radiation or contamination by radioactivity Suicide or self-inflicted injury, pre-existing physical defect or infirmity, AIDS, pregnancy Professional or hazardous sports, aerial activities, underwater activities requiring breathing apparatus Motorcycling, member of armed forces, rescue services, police forces, aircraft crew |
Do note that the list is not exhaustive and may vary between insurers.
Should you get a personal accident plan?
Accidents could be life-changing and financially draining for anyone, especially breadwinners. The main difference between personal accident insurance and life insurance or medical and health insurance, is the cause of injury or death. Personal accident insurance doesn't cover injury or death from natural causes.
This is why a personal accident plan complements a life insurance plan. It protects you and your family in the event of an accident. The personal accident insurance policy could also cover accidents that happen abroad and can be extended to protect your spouse and children, provided the insurance plan has such options.
Even if your employer provides personal accident insurance, getting your own personal accident insurance could be good as it ensures that you are supported from all sides. That would give you extra peace of mind. With personal accident insurance, claims across multiple policies are allowed for certain benefits. However, there'll be a total limit to the amount you can claim. 
The lump sum payout for certain benefits would also provide you and your family with a financial breather should anything happen.
Consider getting a personal accident insurance plan if you:
Want protection against unforeseen accidents
Regularly engage in outdoor activities or sports
Work with heavy and potentially dangerous machinery or substances daily or regularly
Work in higher risk jobs such as in security, delivery, and so on.
Are self-employed, as you may need to cover a period of lost earnings and pay business expenses
Want higher payout for your family in case of accidental death
You may still want to consider getting a personal accident insurance if you drive or cycle to work every day. When deciding on a personal accident insurance policy, the key is to purchase one with enough financial coverage according to your family's needs, current debts, and future plans such as education for your children. 
Tips for choosing a personal accident insurance plan
Death benefit: If you don't have a life insurance policy, or have only a small death benefit (likely from an endowment plan or similar), consider worthwhile choosing a high death benefit for your personal plan specially if you are the sole breadwinner
Income benefits: Critical for the self-employed, or those without a fixed monthly salary. This way, you don't have to worry about loss of income while recovering from an injury.  Some personal accident plans offer a daily allowance for hospital stays as well.
Pair with a term plan: If you've a high-risk occupation, you may face difficulties purchasing a personal accident policy. To ensure that you've enough financial coverage, you may consider boosting it with a term life plan. It could be a cost-effective solution to protect you and your family.
Interested in getting a personal accident insurance policy?
GoInsuran PA offers a wide range of plans according to your current needs.
Refer to this page https://www.goinsuran.com/personalaccident/ for details or to request for a quote.