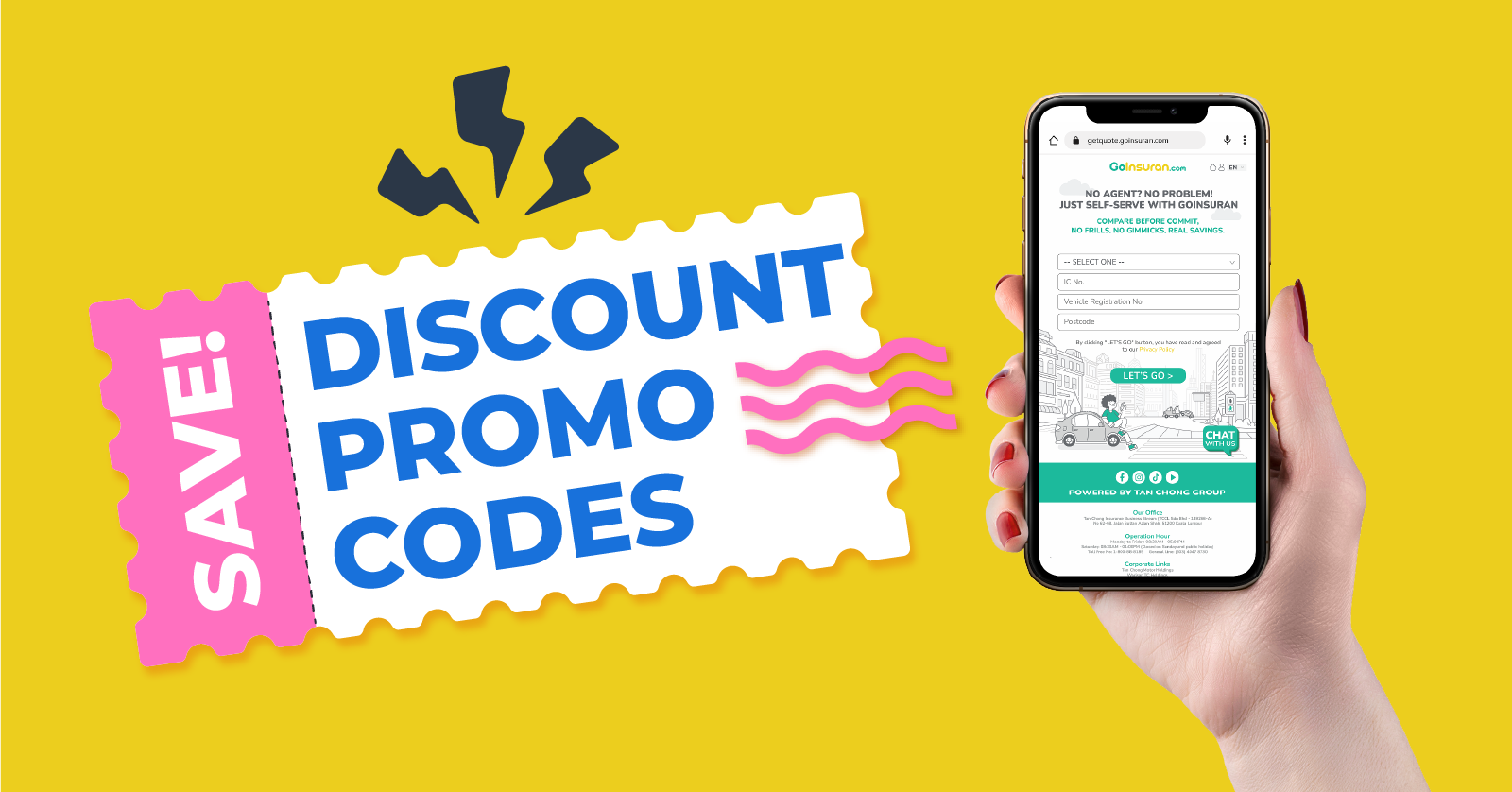 Attention all car owners! Did you know that you can save BIG on your car insurance renewal by using promo codes? Yes, you read that right! Here at GoInsuran, we've exclusive promo codes that can help you save on your car insurance renewals. The codes are at the end of this article! 
But before that, how can you use those promo codes and snatch up instant savings? Just renew your car insurance on this website! Our sleek and modern web interface makes the renewing of car insurance easy, frictionless and seamless!  
Plus, you get quotes from up to 14 top insurers in Malaysia. But the real icing on the cake is the promo codes. We have partnered with some of the best brands in Malaysia to offer you instant savings on your car insurance renewal.  
4 steps to instant savings for car insurance renewals 
It's really easy! You can now skip using an agent to renew your car's insurance.  
Step 1:

Visit

www.goinsuran.com/renew

Step 2:

Key in your NRIC Number, Name, Vehicle Registration Number, Email, Mobile Number, and Postcode

Step 3:

Add on benefits and select the renewal option that best suits your needs and budget. 

Psst! You'll receive up to 14 quotes from Malaysia's top insurers.

Step 4:

To enjoy instant savings, enter the promo code of your preferred car insurer.

 
All you need is a mobile device or laptop, and the Internet, and you're good to go! In fact, you can complete the process in just 3 minutes – that's less time than it takes to make a cup of coffee! 
🌟Click here to get up to 14 quotes now!  
Benefits of renewing your car insurance here 
Fast and easy renewal

: Just 3 minutes!

 

Compare prices in real-time

: Up to 14 insurers at one glance

Free road tax delivery:

Straight to your doorstep

Hassle-free payment methods:

e-wallet, Easy Payment Plan (EPP), or Buy Now Pay Later (BNPL)

Betterment

(the replacement of a damaged car part with a brand-new original part after an accident claim

)

:

12 years

of betterment for Tan Chong car brands (Nissan, Renault, Infinity, JMC, GAC)

7 years

of betterment for non-Tan Chong car brands

High tow truck cover limit:

Inclusive of 24/7 RSA (Roadside Assistance)

Commercial-use and company-registered vehicles

accepted

Award winning brand:

GoInsuran won the General Insurance category (Digital) in the Malaysian Technology Excellence Awards 2022

Reliability and credibility

: GoInsuran is wholly-owned by the renowned Tan Chong Group

 
Wait, there's more!  
GoInsuran has lifestyle insurance options to match your lifestyle!  
Going on a trip? We've got you covered with our Travel + COVID-19 protection plan.  
Accidents happen, but with our Personal Accident + COVID-19 protection plan, you'll have peace of mind knowing that you and your family will enjoy 24/7 coverage anywhere in the world. 
What about your home? Our Home Protector plans insure your home and its contents, as well as personal effects, personal liability and personal accident.  
Let's not forget about an all-important aspect of our lives – our health! GoInsuran offers comprehensive and flexible Medical Insurance plans, where you can even review and change your coverage whenever you need to. 
So, no matter what life throws your way, GoInsuran has you covered through and through!  
Okay, now as promised, here are the promo codes for instant savings on your car renewal insurance. Happy saving, from us to you!  
Copy code: 
GOAUTO2U

Copy code: 
GOCARLIST

Copy code: 
GOBIZ 

Copy code: 
GODIGI 

Copy code: 
GODTOXCAR


Copy code: 
GOMOTOR


Copy code: 
GOPANDU
 

Copy code: 
GORHB
 

Copy code: 
GOVISA


Copy code: 
HELLO


Copy code: 
JOMJIMAT
 

Copy code: 
LETSGO

Related articles: