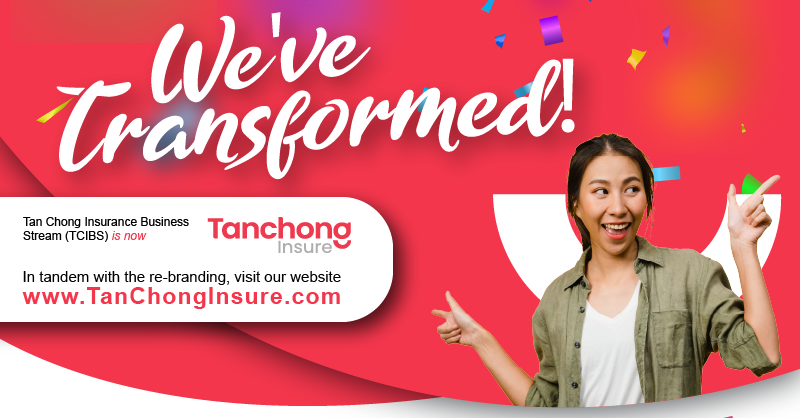 Pasar Mini 99, MyTeksi, WOBB, Groupon – these are a few of famously popular brands that went through a rebranding exercise, and Tan Chong Insurance Business Stream (TCIBS) is joining them!  
Our new name will be switched on on 1 January 2023, and it'll be… are you ready for it?… Tan Chong Insure.  
The rebranding of Tan Chong Insurance Business Stream (TCIBS) to Tan Chong Insure doesn't change the way we deliver innovative products and value to our customers.  
Tan Chong Insure will carry on the legacy of robust performance and expansion as we: 
Oversee both motor and non-motor insurances businesses

Perform as an intermediary for a total of 14 panel insurers/takaful operators

Continue to service existing and new customers, through our wide sales distribution network encompassing our car showrooms, service centres, CX telemarketing, our websites, and digital communications

 
So, where do you visit for details on Tan Chong Insure? Visit this site beginning 1 Jan 2023: www.TanChongInsure.com  
This also means that www.tcibs.com.my will be deactivated beginning 1 Jan 2023. 
About Tan Chong Insure, in 5 quick minutes 
Tan Chong Insure (previously known as Tan Chong Insurance Business Stream (TCIBS)) is a business division of Tan Chong Motor Holdings Berhad and it's a leading professional insurance consultancy-based division that provides services in all classes of general insurance for individuals, families, and corporations in Malaysia.  
In December 2020, TCIBS launched a digital insurance platform named GoInsuran, accessible to all at www.Goinsuran.com. GoInsuran was developed to introduce a new approach for road users to renew car insurance and road tax easily.  
TCIBS infused platform technologies that utterly simplifies the purchasing process for you. More intelligent, more user-friendly. You can easily get free quotations from multiple insurers in one page and make payments online. 
Speaking of payments, GoInsuran.com has introduced an affordable easy payment option, called Buy Now, Pay Later (BNPL). This is in partnership with Atome, one of the largest BNPL players in Asia.  
GoInsuran.com operates as a real-time platform where you can renew your car insurance in as quick as 3 minutes. The platform also provides FREE delivery of road tax.  
Growing suite of insurance products and services 
The Tan Chong brand is synonymous with trustworthiness, integrity, knowledge, perseverance, and diligence. And that's a large part of the renaming exercise – to retain the Tan Chong brand which Malaysians have come to know.  
With proven capability and experience in a wide spectrum of insurance services, Tan Chong Insure continues to develop even more innovative offerings to meet the changing and growing needs of our customers who come from all walks of life. 
Motor insurance 

Non-motor insurance 

Car insurance  

 

Motorcycle insurance 

 

Commercial 

 

GAP 

 

Extended warranty plans

 

Motorist personal accident 

 

Personal accident insurance 

 

Travel insurance

 

Home insurance

 

Medical insurance 

 

 
Tan Chong Insure also has relevant and competitive COVID-19 coverages in travel insurance and personal accidents insurance. Pet insurance, and other affordable products will be offered in the near future.  
Be sure to stay tuned! You may do so by following our social media pages too:  
 Related articles: