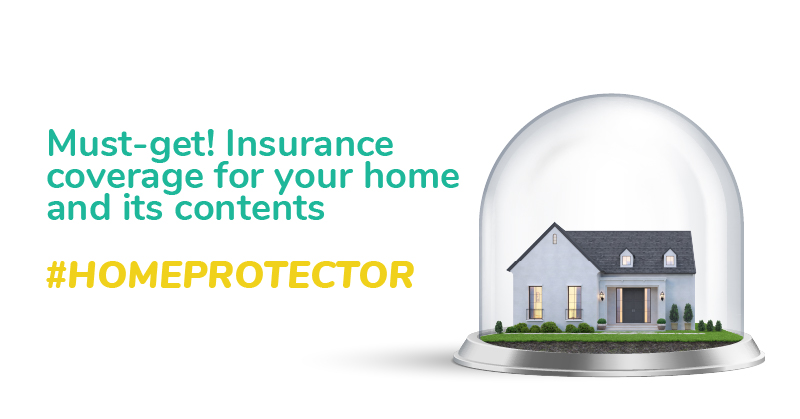 Upon the purchase of a property, most would budget for renovation, fittings, furniture, and home decor. However, one important thing that is often overlooked or forgotten is this – property insurance. All it takes one unforeseen incident such as a burst pipe, fire, flash flood, theft, or even a bad tenant renting your property, to cost you a chunk of change.
Let's delve into the types of property insurance plans out there!
Basic fire policy
This policy covers your building and/or contents from loss or damage caused by fire, lightning and domestic gas explosion. The coverage could be extended to include special perils, with additional premium, as listed below:
Aircraft damage
Earthquake and volcanic eruption
Storm tempest
Flood damage
Explosion
Impact damage
Bursting or overflowing of water tank apparatus or pipes
Riot strike and malicious damage
Electrical installation Clause B (for business plants and machinery)
Bush/lalang fire
Subsidence and landslip
Spontaneous combustion (for stocks)
Damage by falling tree or branches and objects therefrom
Sprinkler leakage
Smoke damage
Houseowner policy
This policy provides comprehensive coverage for residential properties (private dwellings, condominiums, apartments or flats). It covers the physical structure of your property such as walls, roof, fixtures, fittings, gates, and fences. Do note that the houseowner policy excludes the contents inside your property.
A basic homeowners' policy namely covers fire, explosion, flood, impact, or lightning. It also usually includes damages to your residence arising from theft with violent/forcible entry or exit. Peril that are not mentioned in your policy will not be covered. Still, you can avail yourself of special policies that safeguard your residential property against all risks, except those explicitly excluded by the insurance package.
The homeowner policy's coverage depends on the replacement cost. In the event that your residence is totally destroyed, your insurer will only reimburse up to the policy limit. Thus, it is advisable for homeowners to obtain an insurance policy that can cover the cost of rebuilding your property in the event of loss/damage.
If your property is under financing, you should make sure that the financial institution has taken adequate coverage. Alternatively, you may want to take up a separate insurance cover to extend the coverage taken by the financial institution.
If you own a strata-titled property such as a condominium unit, the property's management / management corporation (MC) is required to take up insurance under a master insurance policy. Be sure to get a copy of your individual certificate of insurance for your property to check the coverage under the master insurance policy. Usually, the master insurance policy covers mainly for the cost of repairs to the building and common areas, and not the contents of individual units.
Householder policy
This policy covers contents in your property, such as household items, furniture and appliances, personal effects, and other moveable possessions, against risks of fire, flood, and theft, among others. Be sure to note disasters that aren't mentioned in the insurance policy.
Some householders policies compensate based on the full-value of items without taking into account depreciation, while some only cover the actual cash value of your items and takes into depreciation. That said, you also need to make sure that the amount insured is sufficient.
Generally, houseowner and householder policies provide cover for loss or damage to your building and/or contents caused by any of the following perils:
Fire, lightning, thunderbolt, subterranean fire
Explosion caused by gas used for domestic purposes
Aircraft and other aerial devices and/or articles dropped therefrom
Impact with any buildings by road vehicles or animals
Bursting or overflowing of water tanks apparatus or pipes
Theft, but only if accompanied by actual forcible and violent breaking into or out of a building or any attempted threat
Hurricane, cyclone, typhoon, windstorm
Earthquake, volcanic eruption
Flood
Robbery and hold up in the premises
The GoInsuran Home Protector plan offers the following additional benefits (non-tariff).
| | | |
| --- | --- | --- |
| Applicable for Contents | Applicable for Buildings | Applicable for Buildings and / or Contents |
| Loss of Personal Money at Home | Replacement of Window / Door / External locks | Fire Brigade Report |
| Cost of Replacing Lost Legal Documents | Maintenance Fee Protection Benefit | Fire Brigade Charges |
| Fraudulent Use of Credit/ATM Card | Replacement of Burst Pipe | Domestic Help Allowance |
| | Terrorism Cover | Emergency Cash Allowance |
| | | Worldwide Personal Accident |
You could also extend coverage to the following risks by paying additional premium:
Subsidence and landslip
Riot, strike and malicious damage
Cover on Landlord's Household Goods and Furnishings in blocks of flats/apartments
Insurance of Plate Glass
Cover against loss or damage by hurricane, cyclone, typhoon or windstorm to metal smoke stacks, awnings, blinds, signs and other outdoor fixtures and fittings including gates and fences
Cover alterations, repairs and additions (but not appreciation in value in excess of the sum insured)
Extended theft cover but excluding theft by domestic servants or any member of your family or household
Extended theft cover including theft by domestic servants
Increase of Indemnity limits under Additional Benefit – Rent Insurance
Increase of Indemnity limits under the Additional Benefit – Liability to the Public
Considerations before purchasing a home insurance
Own a non-landed property: Your property's management has probably purchased a fire policy. You can consider other protection plans to supplement it.
Your property's location: You could supplement a basic policy to cover other perils, if your property is exposed to more risks.
Contents of your property: It's good practice to document items such as furniture, fixtures, household goods, and personal effects, to facilitate the determination of value and hasten claims.
Determine the insured sum: Be sure to factor in the cost of rebuilding or repairing your property. You could also check with neighbours with fire coverage for an estimated figure, then adjust the amount to suit your property.
Can't decide which insurance to get for your home?
You can get a hybrid insurance policy that protects both your home and your household items. As always, the more comprehensive the coverage, the higher the premium is likely to be. So, choose an insurance policy that suits your needs.
You can start by shopping around! For example, you can review the GoInsuran Home Protector plan, to decide if it's perfect for you. The insurance cover is for one year. So, you'll need to renew your insurance policy annually.
The best thing about having a home insurance is the peace of mind in knowing that you'll be able to recover some of your losses and put it towards restoring your home.
You could even win a Nissan Almera with GoInsuran!
It's easy to participate! Just join the #SpotdanMenang contest for your chance to win a brand new car. Click here for details!