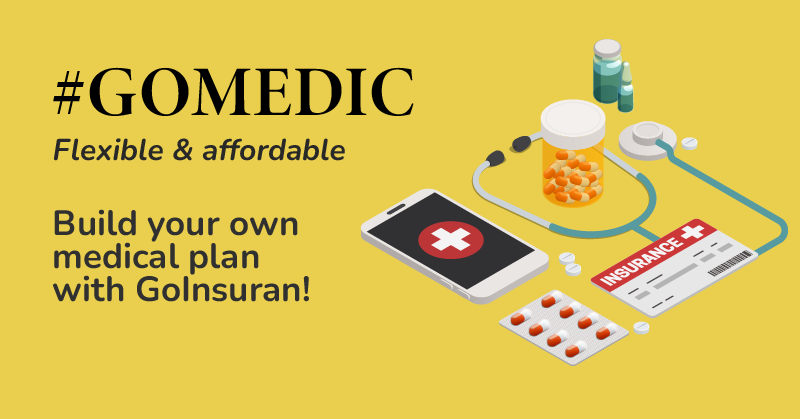 We are all different, right? So, that means a one-size-fits-all solution doesn't necessarily work for you or your family. With this in mind, GoInsuran is offering a FULLY customisable medical plan. You can choose what you need to protect yourself and your family.  
Our affordable medical plans allow you to personalise medical insurance plans according to your medical background, life stage, career, and more. The medical plan even takes into consideration that your needs will change over time. This means that you can review and change the coverage whenever you need to. Our flexible medical insurance plans also allow families to enjoy a discount on premiums. 
Jom, get a medical plan that's as unique as you. GoInsuran offers a choice of 6 medical plans to suit your budget and healthcare needs. The spectrum of medical card includes a range of coverage and incentives. So, choose the one with the best value of care that you need.   
Key advantages of getting a medical card with GoInsuran 
Unlimited days on room and board  
No limit or maximum days when you're admitted to a private or government hospital.
Pre-hospitalisation coverage
Coverage for medical expenses on diagnostic procedure and specialist consultation within 60 days prior to admission to hospital. 
Post-hospitalisation coverage
Coverage for medical expenses within 90 days after discharge from hospital. 
Outpatient Cancer & Kidney Dialysis 
Coverage for outpatient medical expenses for cancer treatment and kidney dialysis as charged, subject to annual limit. 
Our healthcare needs are unpredictable, because life is unpredictable. Leverage our medical plans' flexibility by customising it to help you manage medical costs, so that you can focus on getting the treatment you deserve! 
Why choose GoInsuran for your medical insurance? 
Choose from Basic or Prime benefits, and then select the amount of coverage that works for you, select add-ons that you'll need, and exclude coverage that you'd rather not include. The medical plans encompass: 
Hospitalisation & Surgery 
Outpatient Care following hospitalisation or surgery
Emergency and Traditional & Complementary Medical Treatment 
Enhanced Care Benefit 
Click here for details on the flexible medical plans or to get a quote. 
GoInsuran medical plans are fully customisable with: 
No lifetime limits 
No medical check-up needed 
Cashless admission at panel hospitals 
Automatic increase of limit of coverage by 10% every 3 years 
Renewable till age 100 
Family discount; covers up to 10 persons 
Optional riders 
Emergency medical evacuation and repatriation (emer) 
Hospital cash benefit insurance (HCI) 
Dental insurance 
Critical illness insurance 
Personal accident insurance 
Click here for details on the customisable medical plans or to get a quote. 
How much are these flexible medical insurance plans? 
That would depend on your gender, age, BMI, occupation and lifestyle, so on. Get in touch with us and we'll provide a quotation. 
Need more comprehensive coverage that matches your lifestyle?  
The GoInsuran platform offers full comprehensive policies, from vehicle to home, travel to personal accident. In fact, we'll even assist you to follow-up on claims you've made.