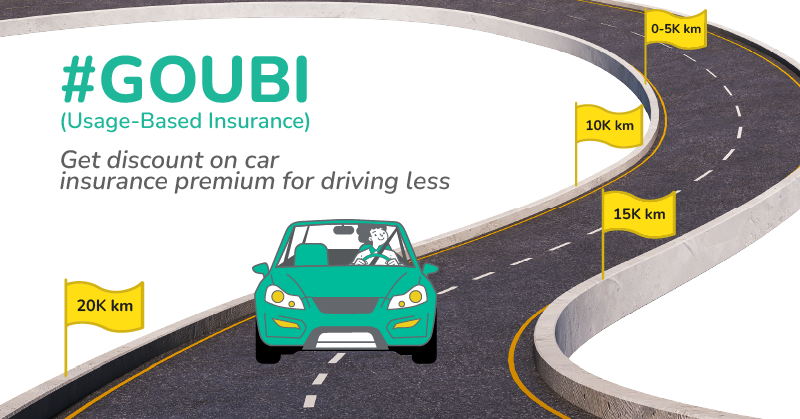 GET DISCOUNT ON CAR INSURANCE PREMIUM FOR DRIVING LESS 
If it doesn't spark joy, drop it! We'd like to think that it applies to your car insurance premium as well. While you can't totally drop having car insurance, you can get a car insurance plan that speaks true to your budget and needs.  
We all clock at different mileage, so why should we pay based on the same rate right? In comes Usage-Based Insurance (UBI), also known as Pay as You Drive (PAYD) or Pay as You Go. 
What is Usage-Based Insurance (UBI)? 
Usage-based car insurance calculates the price you pay for car insurance based on how you use your car. Car drivers may want to choose usage-based insurance to save on car insurance. Such insurance is typically favoured by drivers who don't get on the road often. Instead of paying the same flat rate, you can pay for insurance coverage that correlates with how much you drive.  
In some countries, the usage-based insurance plans take into consideration an individual's driving behaviour as well, such as how often the driver speeds or how hard he/she brakes. Generally, the more you drive, the more risk you take on. The less you drive, the less risk there is. So, when you opt for usage-based insurance, you may be able to slash costs.  
Who should consider usage-based insurance? 
Remote workers or those with a hybrid work schedule 
Self-employed individuals who work from home 
Individuals who primarily walk, bike, and take public transportation, but still drive occasionally  
Those who drive within a small radius daily 
 Introducing, #GoUBI (Usage-Based Insurance)
GoInsuran has crafted car insurance plans that are usage-based. With GoInsuran #GoUBI, you'll pay based on how much you drive. 
Here are the #GoUBI insurance plans. 
Plan 1 
MP1 – Less than 5,000km: Save 40% 
MP2 – Less than 10,000km: Save 25% 
MP3 – Less than 15,000km: Save 15% 
MP4 – Less than 20,000km: Save 5% 
 Key features 
No coverage downgrade even if mileage exceeded 
Eligibility: All private cars with comprehensive cover 
Instant premium rebate upon sign-up 
No interim odometer submissions needed 
Plan 2 
A – Up to 5,000km (discount up to 50%): RM1,473.71   
B – Up to 10,000km (discount up to 40%): RM1,964.95   
C – Up to 15,000km (discount up to 20%): RM2,210.57  
* Above premium is based on sum Insured: RM91,000 
Key features 
SOS Panic button (Bluetooth-based device) – with emergency and accident alert button 
Breakdown and towing assistance  
Repair Warranty of 12 months 
Special perils – Cover up to RM10,000 or 20% of sum insured, whichever lower  
How to sign up for #GoUBI (Usage-Based Insurance) 
Fill in the form here and simply choose your preferred plan, we'll get in touch with a quote. 
If you're a low-mileage driver, it's worth looking at usage-based insurance to see how much you could save.  Need more details before switching to usage-based car insurance? Get in touch with us! We'll gladly guide you along the way.