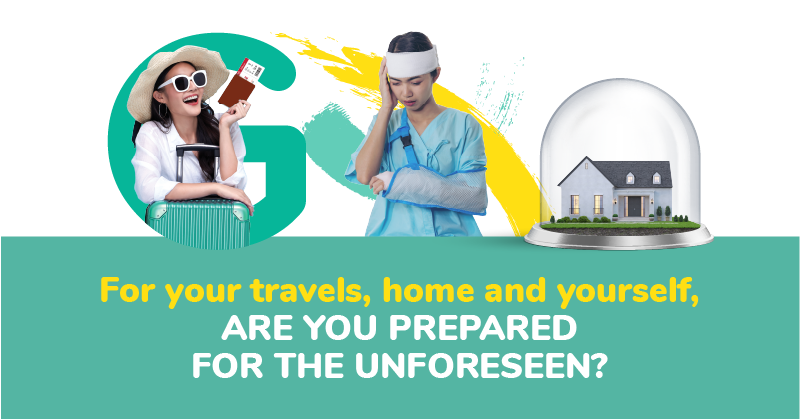 Life doesn't always go as planned, right? Unexpected events happen, and sometimes it could be expensive. Insurance can help cover the cost and lighten any financial repercussions.  
So, if you travel, have a home, or want coverage against personal accidents, we're here to assist you. No obligations, and no pressure – really. Just leave your details for a quote, and be free to decide if the insurance policy is right for you.   
Travel insurance, from as low as RM4.40 per day. Ask us about it. 
Travel insurance might've been seen as a good-to-have before Covid-19 times, but it's no longer just an option as the virus' variants are more infectious than ever.  
The last thing you'd want to happen during a holiday is to catch Covid-19. With travel insurance, you and your fellow travellers will have peace of mind knowing that you're all covered by insurance. 
Besides medical coverage, a travel insurance plan with Covid-19 coverage can also save the day if you're stuck abroad. Covid-19 coverage often includes evacuation (if needed), travel cancellation coverage, quarantine allowances, and more. 
The GoInsuran #GoTravel insurance covers: 
High cover of up to RM1,000,000 for medical expenses 
Emergency evacuation as charged or up to RM1,000,000 
Trip cancellation  
Travel delay – get paid RM100 for a 2-hour flight delay even without submitting a claim 
Cashless admission for accidental injury  
Cashless medical care 
Emergency travel assistance 24/7  
Lifestyle coverage – golfers cover & pet care 
Lost baggage claims paid on covered amount  
Be protected from the moment you leave home till the moment you return. Want more info or quotation for the GoInsuran travel insurance plan? Fill in the form here. 
Protect your home, and your family. Ask us how. 
You've invested in your home. The furniture, appliances, deco, and of course, all the memories. Now, you can safeguard your home and its contents with the GoInsuran HomeProtector. It covers your home against theft of items, fire, natural disasters, and even personal accident.  
If you're a property investor, you can opt for extended covers for reimbursements against household goods, loss of rental, and more. 
Here are the highlights of GoInsuran HomeProtector: 
Worldwide personal accident – RM10,000 per person; up to a maximum of 5 family members residing with you 
Emergency cash allowance or inconvenience allowance – Payable up to RM1,500 
Cost of replacing burst water pipe including hacking and plastering – Payable up to RM1,500 
Fraudulent use of credit card or ATM card – Payable up to RM1,000 
Unlike some other insurance policies, GoInsuran HomeProtector does not apply any "per article limit" to your contents, and the full cost of repairing the damage to property is paid without any deductions being made for wear-and-tear or depreciation. 
Want to take the first step towards safeguarding your home and family from the unexpected? Fill in the form here. 
Personal accident insurance, from as low as RM0.30 per day. Ask us about it. 
Subsequent to an accident, the road to recovery is often paved with costs such as transport, visits to the doctor, and more. To be prepared, you could choose a personal accident insurance policy that provides financial support to you and your loved ones in the event of unfortunate situations.  
The GoInsuran Personal Accident insurance includes coverage, wherever you are around the globe. Here are some of its benefits:  
1 plan with unlimited number of children 
Bereavement allowance and medical expenses that cover COVID-19 
Cashless admission; up to RM5,000 
24-hour worldwide cover 
Renewal bonus; up to 120% 
Protect yourself and your family, and avoid or reduce out-of-pocket expenses. Find out more by filling in the simple form here. 
Get the coverage you need. The key is to start today! 
Choose the insurance cover and premium that best suits your needs and budget, and adjust the level of coverage according to your changing needs over time. 
Get peace of mind at an affordable cost with GoInsuran! 
Related articles