Are you a first-time insurance buyer, feeling overwhelmed by the process? Don't worry; you're not alone! Insurance can be complex, but with GoInsuran by your side, it's easier than ever to navigate. In this 5 step-by-step guide, we'll walk you through the essential stages of purchasing insurance, helping you protect what matters most in your life. Let's get started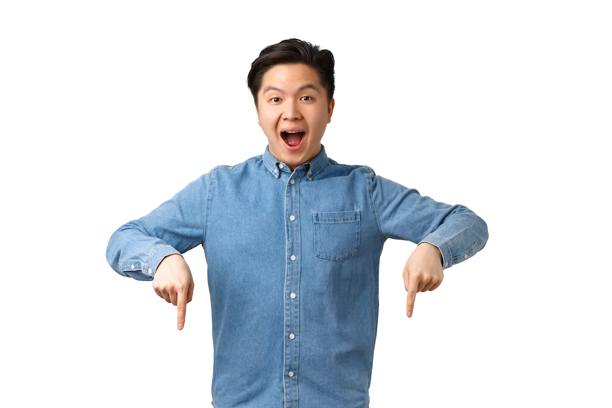 Step 1: Key In Your Information
Include Your Contact Information – Email and Contact Number
The first and foremost decision you'll make on your journey to securing insurance is to an provide accurate email address .By providing us with the accurate contact information , you will be able to stay connected and informed throughout your insurance journey by entering your email address and a reliable contact number. At GoInsuran, we take data privacy seriously and prioritize the secure handling of your information. Rest assured that your details are safe with us as a first-time insurance buyer as every customer will recieve e-policy and invoices via email .
Our commitment to you doesn't end with your policy purchase. We're here to provide support and assistance whenever you need it. Whether you have questions about your coverage, need to make a claim, or simply want to review your policy, our dedicated team is just a phone call or email away, this process makes it simple for a prospective first-time insurance buyer.
Determine Your Category – Malaysian, Foreigner, or Company
At GoInsuran, we understand that insurance needs can vary greatly, so we offer tailored solutions for different individuals . Are you a Malaysian citizen, a foreigner residing in Malaysia, or a business owner seeking comprehensive coverage? No matter your background or requirements, GoInsuran is your one-stop destination for insurance options that are specifically tailored to your unique needs as a first-time insurance buyer.
We understand that navigating the insurance landscape can be a daunting task, especially for first-time insurance buyers. That's why our mission is to simplify the process and provide you with a seamless experience. Whether you're looking for health and life insurance to protect your loved ones, auto insurance to safeguard your vehicle, or property coverage to secure your assets, GoInsuran has you covered.
Provide Your Personal Information – Name and IC
With GoInsuran, getting insurance quotes has never been easier, even if you're a first-time insurance buyer. We believe in transparency and simplicity. To get started, all you need to do is enter your name and Malaysian Identification Card (IC) number. If you're a foreigner or a company, you can simply provide the equivalent identification details.
Our cutting-edge system quickly generates personalized insurance quotes that match your unique circumstances. We understand that everyone's situation is different, and we're here to ensure that you get the coverage that's right for you.
Vehicle Registration Number
If you're in the market for auto insurance as a first-time insurance buyer, GoInsuran streamlines the process to make it as hassle-free as possible. You can easily enter your vehicle's registration number, ensuring that you receive accurate and comprehensive coverage tailored to your specific car.
We understand that your vehicle is more than just a mode of transportation; it's an essential part of your daily life. That's why we offer auto insurance options that not only meet legal requirements but also protect you and your vehicle in various situations.
Add Your Postcode for Accurate Insurance Quotes
Your postcode is a crucial factor in determining your insurance premiums. It helps us assess the risk associated with your location, resulting in precise and competitive insurance quotes. GoInsuran takes the guesswork out of the equation and ensures that you get the coverage you need at a price that makes sense for your specific area.
We work with a vast network of insurance providers to ensure that you have access to a wide range of options. This means you can choose the coverage that suits your budget and needs, all while knowing that you're getting the best deal available in your area.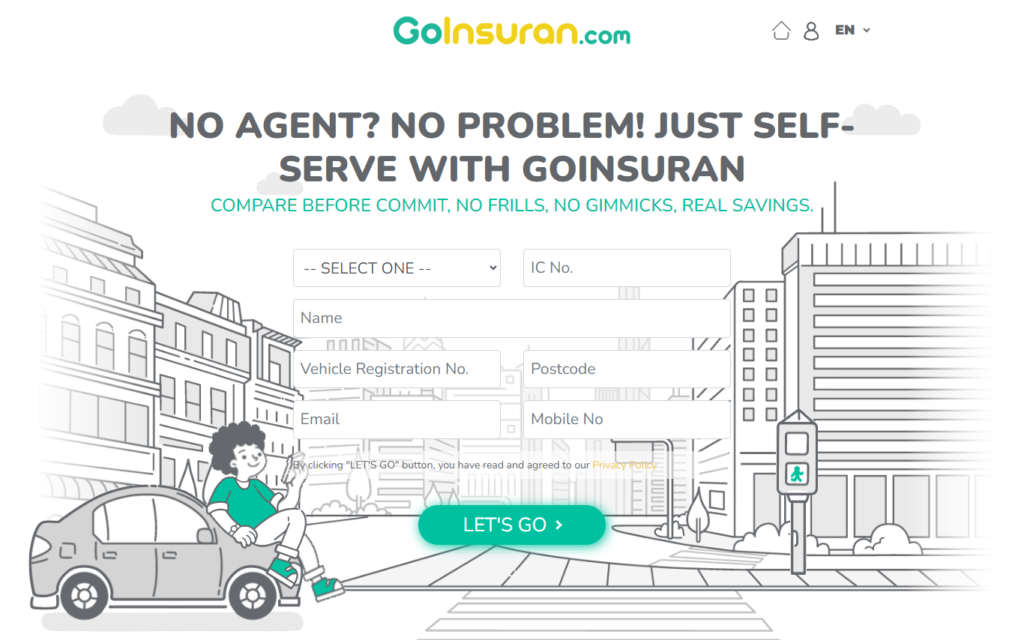 Step 2 : Choose Your Insurer !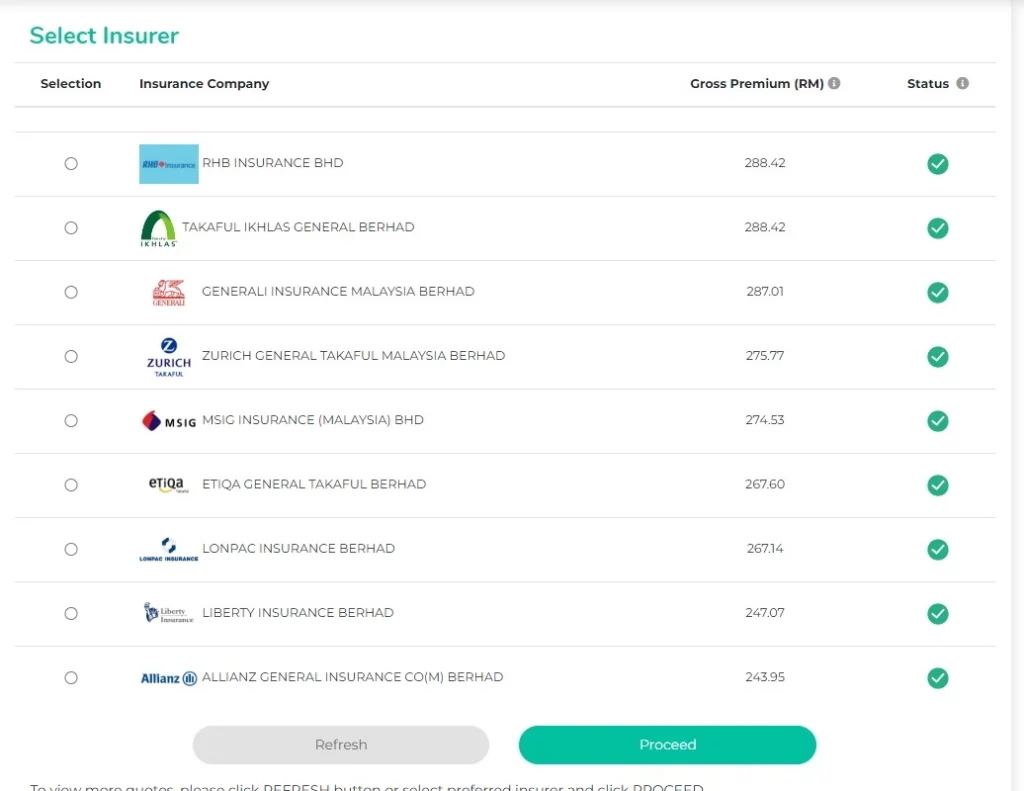 GoInsuran proudly collaborates with 12 different insurance partners, ensuring that you have a wide array of choices at your fingertips. Whether you're seeking comprehensive coverage, budget-friendly options, or specialised policies, our platform empowers you to tailor your car insurance to your exact needs. Say goodbye to the hassle of shopping around, and hello to the simplicity of GoInsuran, your trusted partner in securing the perfect insurance plan for your vehicle as a first-time Insurance buyer.
Step 3: Choose From Our Benefits and Services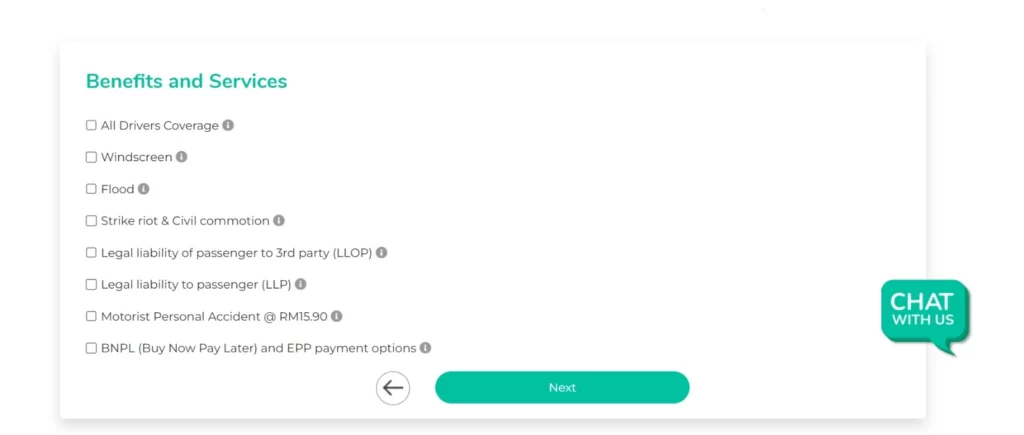 Choose from a variety of benefits and services with GoInsuran's comprehensive coverage . GoInsuran offers a wide range of insurance benefits and services tailored to your specific needs all backed by our commitment to your peace of mind.
All Drivers Coverage: Ensure protection for all drivers on your policy.
Windscreen Protection: Safeguard against unexpected cracks and damage to your windscreen.
Natural Disaster Coverage: Protect your vehicle from the perils of floods, strikes, and civil commotions.
Legal Liability to 3rd Party (LLOP): Coverage that extends to legal liabilities involving passengers and third parties.
Legal Liability to Passenger (LLP): Added protection for passengers, enhancing their security.
Motorist Personal Accident: Personal well-being matters, and our affordable coverage at only RM 15.90 ensures peace of mind on your journeys.
Flexible Payment Options: GoInsuran offers Buy Now Pay Later (BNPL) and Easy Payment Plan (EPP) options for convenient policy payment. (Promo code is not applicable for this payment option)
Step 4 : Review Your Information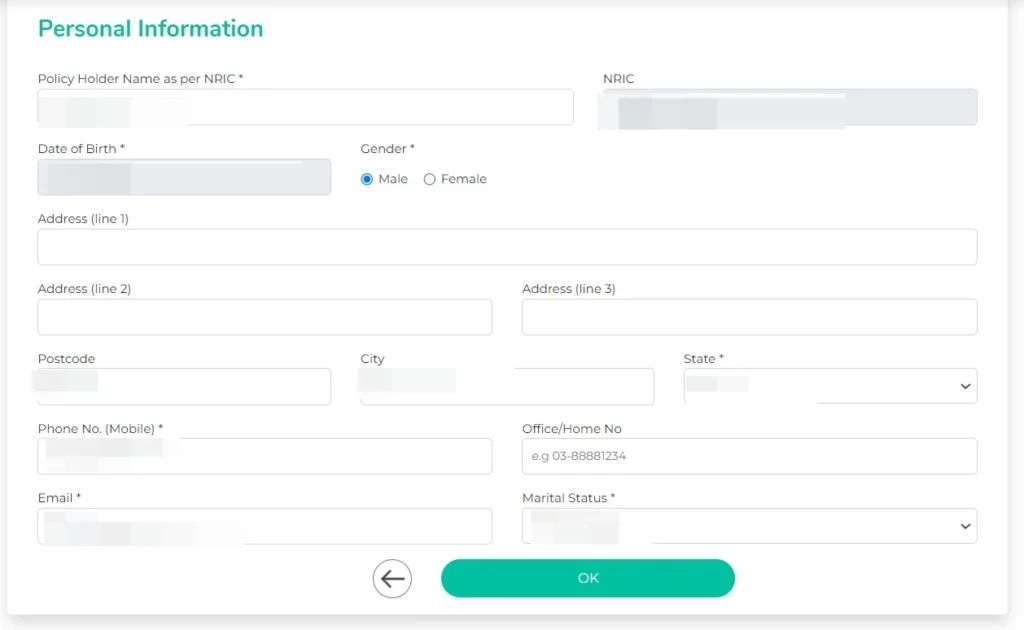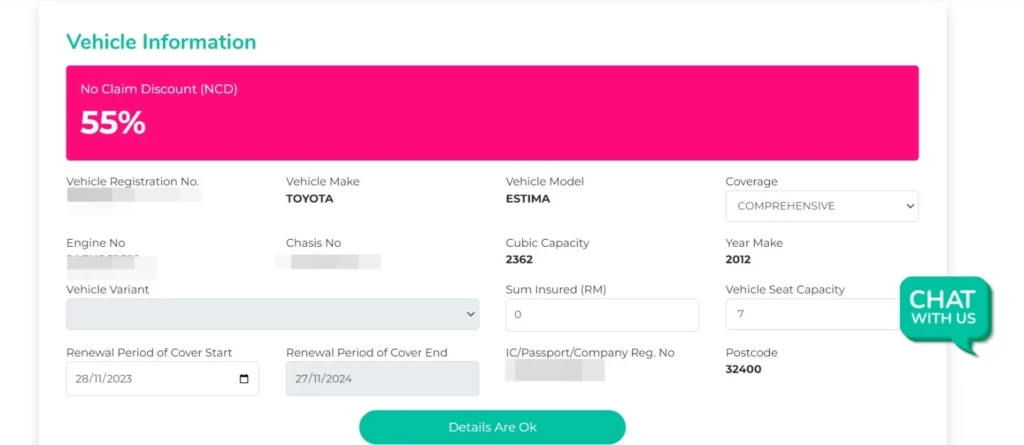 Once you've made your selection to add on GoInsuran's coverage and service options as a first-time Insurance buyer, the next step is as simple as it gets. We value your time and convenience, which is why we've designed our platform to allow you to seamlessly review and input your insured information. Our user-friendly interface ensures that you can provide all the necessary details effortlessly, making the process quick and hassle-free. We understand that your personal and vehicle information is sensitive, and we treat it with the utmost care and security. With GoInsuran, you can trust that your insurance journey is not only tailored to your needs but also prioritizes your data privacy. Your peace of mind begins with your choice of coverage and extends to every step of the process with us as a first-time insurance buyer.
Step 5 : Enter Our PromoCode "HIGOINSURAN" For Massive Discounts !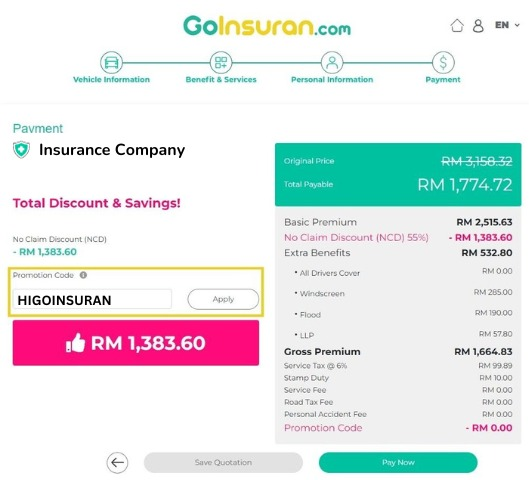 Last but not least , there's one more exciting reason to choose GoInsuran for all your insurance needs. As the final step in securing your peace of mind, don't forget to enter our exclusive promo code, "HIGOINSURAN," when you're ready to make your payment. By doing so, you unlock access to incredible discounts of up to "RM 150+ OFF" on your chosen insurance package. We believe in rewarding our valued customers, and this is our way of saying thank you for choosing GoInsuran. It's not just about getting the coverage you need, it's also about enjoying remarkable savings while you do it. So, don't wait any longer , discover the perfect insurance plan for you, input the promo code, and experience the ease and affordability of GoInsuran today. Your journey to worry-free protection starts right here as a first-time Insurance buyer.
Experience the convenience of obtaining instant insurance quotes and purchasing coverage online with GoInsuran. We're committed to simplifying insurance so you can protect what matters most without the hassle. Your journey to peace of mind begins with GoInsuran! Get started today and discover how easy securing insurance as a first-time insurance buyer can be at https://bit.ly/goinsurancar