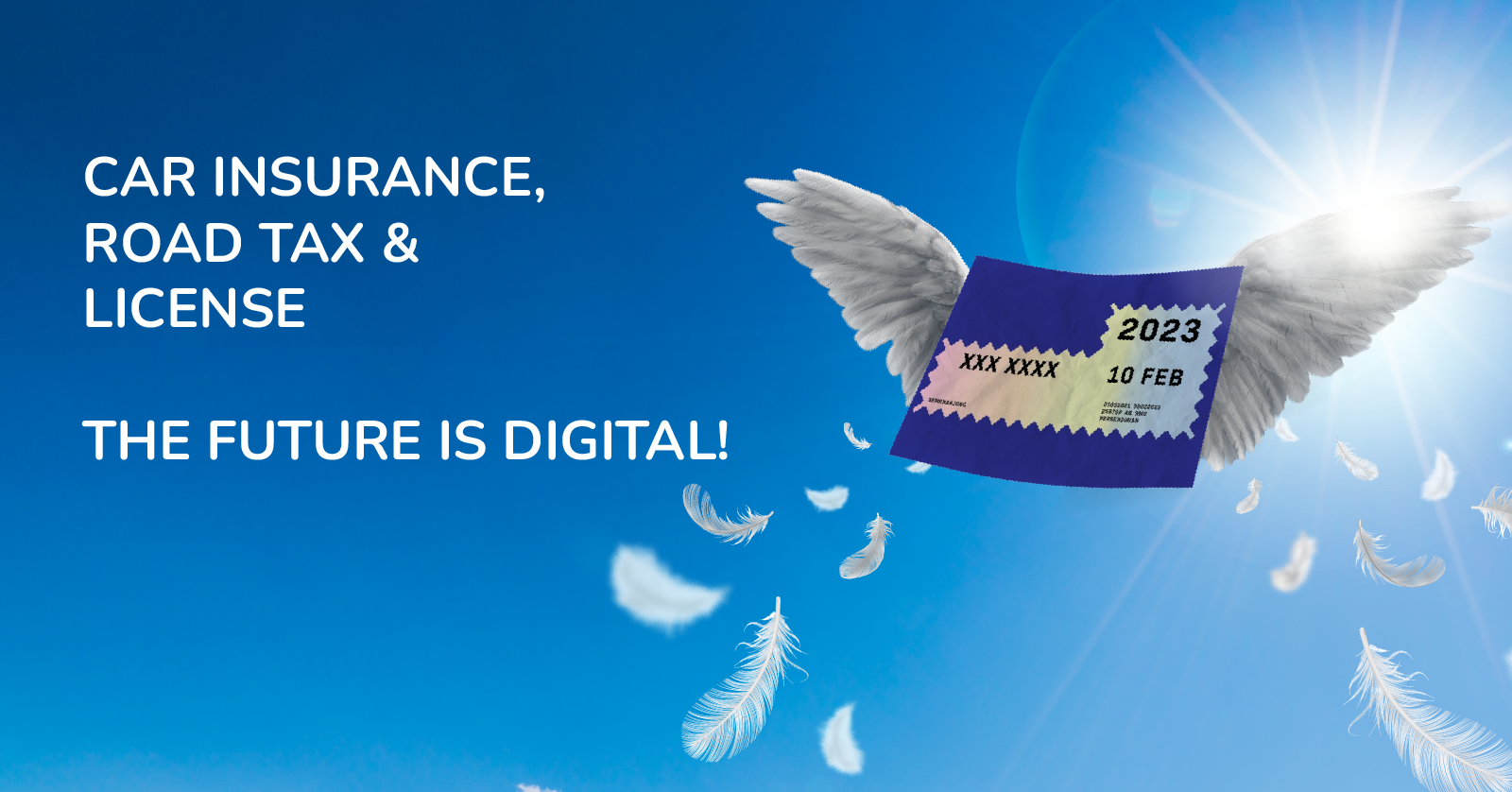 Attention all Malaysian drivers! Tired of waiting in line, on top of enduring parking and traffic pains? Well, digital transformation in the transportation industry has arrived!  
In fact, the Malaysian government introduced a digital road tax system in February 2023, to save you from the hassle of getting the physical copy of road tax delivered, and then having to stick it on your windshield. We all know how sticky (pun intended!) it can get when we try to remove it upon expiry!   
But first… what is road tax, you ask? Road tax is a tax document that every vehicle owner or user must have to use the roads in Malaysia. It's compulsory to have a valid road tax.  
Otherwise, you're committing a serious offence, and will face fines and legal penalties. Plus, you won't be able to file an insurance claim in the event of an accident. So, this also means that you'll need to renew your car or motorbike's insurance along with your road tax renewal.  
The digital road tax in Malaysia 
With the digital road tax system, private vehicle owners will no longer need to display a physical road tax on their cars. The digital road tax and driving licence are now accessible via the MyJPJ app as part of the digitalisation plans for the road transport department (JPJ). This online system aims to save time and effort for private vehicle owners and alleviate long queues at JPJ counters. 
Here are the steps to accessing your digital road tax and licence on the MyJPJ app:  
Download

the MyJPJ app on the

App Store

or

Google Play

.

 

Sign up for a

new account

.

 

Fill in your

personal details

.

 

Key in answers to the

security questions

.

 

Set up your

password

.

 

Log in

to your account with your IC number and password.

 

Go to

'Profil'

.

 

To view your digital driving licence, tap on

'Lesen Memandu'

.

 

For a digital copy of your road tax, tap on

'Lesen Kenderaan Motor'

.

 
Both the digital road tax and driving licence comes with a QR code, which you can show to relevant authorities when required. 
The MyJPJ app also allows you to check on the following:  
Validity of driving licence

 

Validity of road tax

 

Driving test results

 

JPJ fines

 

Blacklisted vehicles

 
To help inject a little more clarity, here are frequently asked questions about the new digital road tax system. 
Is it compulsory to download MyJPJ? Nope! Digital road tax and driving licence are just an option. 
If I don't have the app, how do I show the digital copy of my road tax and driving licence? No worries! The authorities can access digital copies of relevant documents on their devices. According to Transport Minister, Anthony Loke, it is not mandatory for the public to download the MyJPJ app or keep a digital copy of their documents. 
What if I don't want to use the app or register for digital road tax?  You can request for a physical copy of your road tax and driving licence from the Road Transport Department (RTD). Do note that you'll need to show a physical licence if you plan to drive while travelling overseas. This is because authorities outside Malaysia do not recognise the MyJPJ app or digital copy of your driving licence. 
Do I still need to pay for road tax upon expiry? Yes! You'll need to renew your road tax and driver's licence prior to its expiry.  
Where can I renew my road tax and car insurance online?  To renew your vehicle's road tax and insurance online, you can do it right here: http://goinsuran.com/renew. Yup, all it takes is 3 quick minutes!  
With just a few clicks, you can renew your road tax from the comfort of your own home or office. It's fast, easy, and stress-free.   
Our super user-friendly website, GoInsuran, makes the process of renewing your road tax and car insurance as simple as possible. Give it a try, and you'll discover that it's a game-changer. The whole process is straightforward and quick, and you'll wonder why you haven't tried it sooner. 
By choosing GoInsuran, you're choosing:  
Up to 14 quotations from car insurers 

 

FREE road tax delivery within 3 working days, if you prefer a physical copy

 

Convenience and affordability

 
More than car insurance renewals! 
At GoInsuran, we're committed to expanding our offerings beyond insuring motor vehicles. We also have a wide range of non-auto insurance options that aptly match your lifestyle needs.  
GoInsuran's growing list of insurance offering includes: 
Some even say that GoInsuran has the most relevant and best COVID-19 coverage in travel and personal accident insurance! 
What else? GoInsuran will offer pet insurance, and more affordable insurance products soon. Be sure to stay in the loop by following us in our social media pages!  
As more Malaysians continue to embrace digital transformation, it is expected that the adoption of digital road tax will continue to increase. With GoInsuran's online road tax and car insurance renewal services, you can enjoy a seamless and hassle-free experience, every time.  
Related articles: